Best places to retire abroad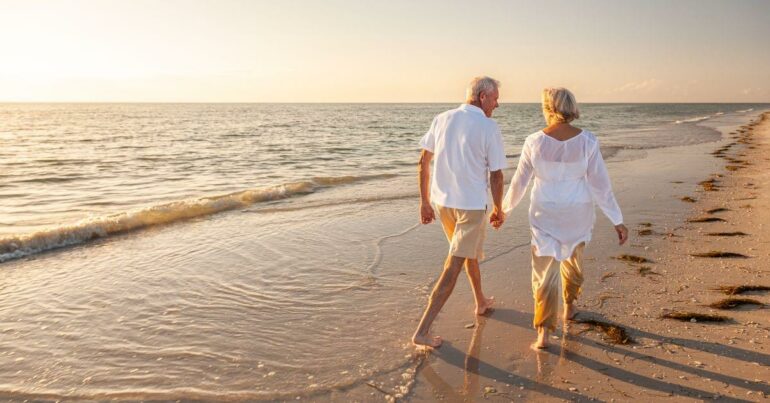 Whether you worked manually plying your trade come rain or shine or your days were defined by back-to-back meetings in your corporate career, the time has come to realise your dream: to move to a new country and live a well-earned relaxing life.
If you decide to take this bold step you will be joining an army of intrepid retirees. For example, according to the latest figures from Spain's Ministry of Migrations, there are more than 400,000 Brits living in Spain, with an average age of 54 years old.
With so much to consider when deciding where to retire abroad – the cost of living, healthcare, visas, expat community – focus your search by joining us to explore some of the best destinations for expats with life experience.
Spain
This perennial expat favourite entices retirees in their droves. From the Costa Blanca to the Canaries, this influx of pensioners has established strong expat communities along its sunny shores. Motivated to move here by the social scene, vitamin D – Spain's stunning shores bask in 300-plus days of annual sunshine – blue flag beaches, and low cost of living, Spain has another ace up its sleeve: the welcoming Mediterranean towns that line its coast.
Take Torrevieja on the popular Costa Blanca for example, which was named the healthiest place to live in Europe by the World Health Organisation. Its dry microclimate – a symptom of the local salt lakes – provides noticeable benefits to sufferers of rheumatism, arthritis, asthma and heart-related problems, making this attractive town a pensioners' paradise.
Healthcare
If you've been a resident in Spain for five years or more, you can apply for permanent residency. This will give you access to state healthcare on the same basis as Spanish citizens.
Visas
The non-working residence visa is a common option for retirees. Another option is the Golden visa – to be eligible you must purchase real estate in Spain worth at least €500,000.
Portugal
There's more to the eastern edge of the Iberian peninsula than sun, sea, and sand – but it's the three S's that tempt so many pensioners to Portugal. Captivating cities like Porto and the capital Lisbon offer urban living with a touch of class; while the idyllic interior is a verdant rolling landscape punctuated by cobblestone villages and mediaeval castles.
It's the allure of the Algarve that provides the biggest pull for pensioners. Here camel-coloured sands lapped by turquoise water are embellished with soaring cliffs, sea caves, scalloped bays and grottoes. The majority of expats settle in Tavira, Vilamoura, Lagos, Faro, Albufeira, Alvor and Ferragudo, where they enjoy stunning surroundings without their pensions being plundered: the cost of living is on average 30% lower on the Algarve than in any other country in Western Europe.
Healthcare
Once you obtain your Portuguese ID number and residence permit, you can access the state medical service.
Visas
The Golden Visa allows those who buy a property worth a minimum of €280,000 to obtain a five-year residence permit, after which you can apply for permanent residency or a Portuguese passport – you only have to spend seven days a year in Portugal to be eligible.
The D7 Visa is aimed at retirees, you must spend at least 16 months in Portugal per every 2 year period.
France
France seduces retirees with its cafe terraces, epic history and bustling village life – but where do you settle in a country that has it all? Beyond the glitz and glamour of Paris lies a landscape that's as diverse as it is beautiful – from the glittering French Riviera to the patchwork fields of the Loire Valley, to the majestic Alps, to the wild Atlantic coast, to the historic harbour towns of Normandy.
Whether you choose sun-drenched shores, old-world charm or alpine bliss, one thing is guaranteed: you can while away the hours indulging in the French 'art de vivre' (the art of living). This proactive approach to living – which is ingrained in French culture – focuses on making time to enjoy life's simple pleasures, such as good food, good wine, good people, and cultural pursuits.
Healthcare
France is widely regarded as having one of the best healthcare systems in the world. Costs are fixed by the government and cannot be increased by providers. You can enrol in the system after three months of residence.
Visas
British citizens hoping to retire to France should apply for a long-stay visa.
Mexico
Mexico might seem like a leftfield addition to our list – but don't be fooled. The largest country in Central America has quietly been building a reputation as one of the best places to retire on the planet. According to the 2023 Annual Global Retirement Index, it's the second-best retirement destination in the world behind Portugal.
The country that's given the world one of its most popular cuisines is also famous for being home to some of its liveliest beach resorts. However, spring break pool parties probably aren't your idea of a relaxing retirement. That's why your contemporaries – a large portion of which hail from the USA – typically head to the more sedate coastal towns with their palm-fringed beaches and cosmopolitan cities. Popular destinations include Puerto Vallarta, Mazatlán, Zihuatanejo, Oaxaca and the state of Jalisco – the Mexican government estimates that nearly 20,000 expats reside full-time here, largely in the picturesque towns surrounding Lake Chapala.
When you're not soaking up the sun there's a diverse landscape of vast deserts, snow-capped mountains, and steamy, tropical rainforests to explore. Not to mention the teeming metropolis that is Mexico City – the fifth largest city in the world with a population of over 21.5 million inhabitants.
Healthcare
Retired residents can enrol in the Instituto Mexicano de Seguro Social (IMSS) healthcare system, which requires the payment of a monthly fee.
Visas
The Mexico Permanent Resident Card – also referred to as the Mexico Retirement Visa – is the most popular option among foreigners who want to retire here.
Currency transfers
Pension transfers are a vital – and often the main – source of income for retired expats. These savings are the reward for years of hard work throughout your career. So, make sure more of your hard-earned money reaches you by protecting the value of your transfers from fluctuating exchange rates.
You'll also need to mitigate this currency risk if you're buying a retirement home overseas. This proactive approach will prevent the cost from escalating between putting in an offer and making the final payment – a typically protracted process during which exchange rates can fluctuate significantly.
Search for the best deal on your international transfers by comparing the world's leading foreign exchange companies here.