Your guide to retiring in Spain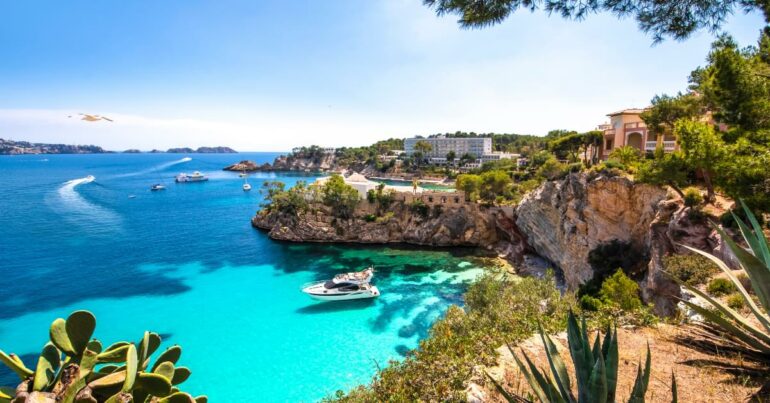 With warm weather, a rich culture, and a sizeable English-speaking community of expats, it's little surprise that Spain is a top destination for retirees. Spain has long catered to its retiree community, and you'll find no shortage of amenities perfect for those looking to spend endless golden days in the sun.
If you're planning on retiring in Spain, you must be up-to-date with the latest information and know where, among its several cities and expansive countryside, you want to live.
In this guide, we've covered everything you need to know about how to retire in Spain, from top cities to frequently asked questions:
Best cities to live in Spain
Spain is one of the most popular countries in Europe to visit and live in. Retirees looking for sun, culture, and value for money won't have to search far. Want to know what the best cities in Spain are to move to if you're retiring? Read our guide below:
Madrid – Best for cosmopolitan living
Spain's capital boasts famous architecture, temperate weather, and flamboyant festivals, making it an excellent destination for tourists, families and even retirees who still want to enjoy an active lifestyle.
Anyone moving here from other European capitals will also appreciate the considerably lower cost of living that Madrid can offer. Excellent infrastructure, ongoing development, great transport links and a large English-speaking community are just some of the draws for those looking for a nice spot to retire.
However, the rising cost of real estate is the one downside of this fantastic city. A steady influx of expats and retirees has driven up property prices recently.
Marbella – Best for food and sunshine
Situated along the Costa Del Sol, Marbella is a picturesque city nestled between oceans and mountains.
With some of the best weather you'll find in Spain (an average of 320 sunny days a year!), you'll find more than enough time to enjoy all the activities this town can offer. Pick from horseback riding, tennis, golf, various water activities, family picnics and even skiing in the Sierra Nevada. Whatever takes your fancy, you'll find it here.
Arguably the greatest draw to Marbella is the local cuisine. Restaurants offer a wide range of delicious dishes. While Spanish cuisine takes the spotlight, you'll find all tastes are catered too from Western to Asian-fusion. The best restaurants in Marbella sit along the beachfront, offering the chance to bask in the sun with your favourite cocktails.
While known to be a busy tourist destination in the summer, quiet periods still offer expats a wide range of activities. Great architecture, winding streets, and incredible beaches give expats a reason to stay long as they grow tired of the summer crowds – 1 in 4 living in Marbella are expats.
Valencia – Best for expat communities
Valencia has two of the biggest airports in Spain located nearby, one in Valencia itself and one in nearby Alicante. There are multiple international destinations just a short hop away, including Paris, London and Rome!
Valencia's climate is characterised by mild winters and hot summers. Valencia's cuisine is deeply influenced by the climate and often includes fresh produce harvested directly from neighbouring farms, vineyards and orchards. Valencia is famous for its fresh fruits and vegetables (oranges and olives are a particular favourite!)
The large English-speaking community is a big draw for foreign expats looking to retire in Valencia. New retirees will find it easy to meet new people through organised events. Valencians themselves are a friendly, open-minded bunch that welcome expats and can help you feel a little more secure in your new life in Spain.
Barcelona – Best for arts and culture
You can find notable works of art on almost every street corner in Barcelona. The famous modernist-architect Antoni Gaudí built numerous spires, public houses and galleries dotted around the city. Visitors can spend their time admiring the world-famous Sagrada Familia, Park Güell, and some of his lesser-known works, such as Casa Batlló.
Barcelona is home to the National Art Museum of Catalonia, which houses artefacts from mediaeval religious cloisters, precious coins, and paintings by Lucas Cranach, El Greco, and Salvador Dalí.
Barcelona has all the amenities you need for a perfect retirement location, including restaurants, open-air markets, easy access to healthcare, and an airport. Barcelona also has a large expat community that welcomes new residents.
Alicante – Best retirement villas
Alicante is a traditional holiday destination known for its stretching coastline. Alicante also has the largest number of expats in Spain, owing to its popularity with retirees.
Most expats choose not to live in the city centre and instead live in the surrounding villages and resorts. A large community of expats own second homes in Alicante, so you'll be able to get away with speaking little to no Spanish.
The city is also small enough to be cosy if you want to live more centrally. Walk 10 minutes inland and you'll largely leave the tourists behind. Here you'll find local shops and outdoor cafes. The city has numerous public hospitals to cater to the elderly population. Private hospitals are also plentiful and are found in villages along the coast.
Malaga – Best for sea-side getaways
Malaga is one of the oldest cities in the world. Also situated along the Costa Del Sol, expect great weather all year round. Coupled with a wide choice of living arrangements – from roomy apartments in the city centre, to lofty cottages on the slopes of the surrounding hills, you'll find all you want and more.
Malaga is arguably best known for its proximity to major beaches and marinas. If you fancy the idea of days spent out on a luxury yacht or taking your own boat out for a spin, you'll be pleased to know that Malaga is filled with like-minded enthusiasts.
Malaga's great transportation infrastructure also makes visiting the surrounding areas a cinch. Malaga has a modern train network which dispatches passengers on high-speed trains all over Spain. Steps away from the train station is a long distance bus station, and an urban tram line.
One thing to note about retiring in Malaga is a possible language barrier. While most businesses in tourist hot-spots speak English, anyone choosing to live there might want to invest in some Spanish classes should they decide to venture further out of the city.
Mallorca – Best for an active lifestyle
There's too much to praise about Mallorca's quality of life to summarise here. The weather is amazing, the beaches are spectacular, the landscape is picturesque and the food is delicious!
Mallorca has a large and vibrant expat community making meeting new friends and integrating yourself into your new community easy. The island is known to be one of the safest places in Spain, most crime is limited to petty theft and pickpocketing.
Mallorca is best suited to an active lifestyle, most residents cycle, hike, swim and walk year-round. Even if you come for the views and not the exercise, you'll find it hard not to get roped in – they're a great way to meet expats such as yourself.
There is an abundant range of relaxing activities to let you catch your breath. Mallorca hosts museums, art galleries, musical events, fantastic shopping, dozens of local festivals and markets.
If that's not enough, the island has been given the royal seal of approval. The Spanish Royal family have an official residence on the island and spend most summers here. Residents can often spot King Felipe participating in local sailing competitions.
Am I eligible for a state pension in Spain?
To qualify for the minimum state pension, you must have worked in Spain and paid towards social security contributions for at least 15 years.
Earning your permanent residency or having the right to live in Spain does not qualify you for a state pension.
If you receive a UK state pension, the good news is that you will receive free access to Spanish state healthcare with a UK-issued S1 healthcare entitlement certificate.
Do I need a visa to retire in Spain after Brexit?
When the UK first left the EU, Spain allowed a grace period of 5 years to those already living within its borders. Although this has expired, there are still valid legal channels for UK expats to earn the right to live in Spain.
If you're looking to move to Spain when you retire, the visa options below are suitable for you depending on your budget and circumstances:
Golden Visa
This visa is designed to be a quick and easy way of getting your residency, provided you can afford it.
A golden visa is issued to non-EU nationals who make a sizable investment in the Spanish economy. This investment can take the form of shares, bonds, or real-estate worth at least €500,000. This gives an easy route to permanent residency for those who can afford it.
Non-Lucrative Visa
A Non-Lucrative Visa is for retired expats with a reliable income source (pensions or investments).
This visa does not give holders the right to work in Spain, so if at any point you were to seek employment, you would need to apply for an additional workers' visa, valid for one year.
The minimum income for a Non-Lucrative visa is roughly €30,000 per annum and an additional €6,778 per dependant. Bear in mind that these figures are subject to change.
How can I move money safely to Spain?
Buying property abroad, securing a foreign mortgage and retiring in Cyprus can be a tricky prospect without adequate preparation.
Those who aren't familiar with moving large sums of money are at risk of being caught by predatory FX practices and unscrupulous bankers.
If you're considering retiring abroad soon, make sure you choose a FCA authorised payment provider to guarantee your personal information and sensitive data are protected and your money safe.
Make sure you avoid hidden charges and unfavourable exchange rates by going for a currency broker who will offer you a much better and cheaper service than your bank.
Matthew Swaile
Copywriter