Your guide to retiring in Cyprus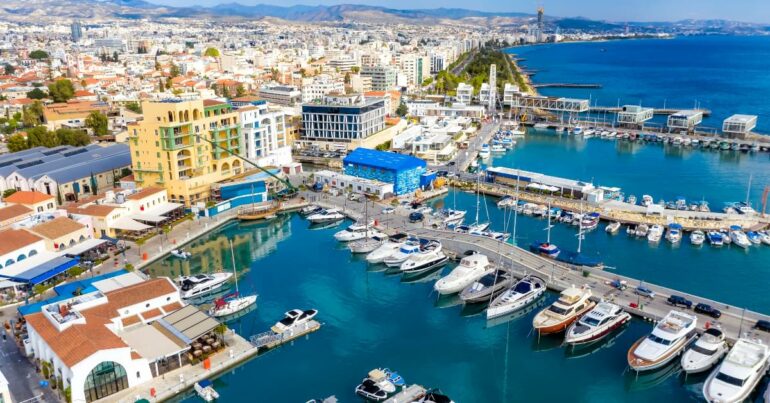 Cyprus is a popular destination for retirees looking for a sunny Mediterranean getaway. This island nation is home to 6 major cities and innumerable small villages. There are so many unique locations that deciding where to live in Cyprus can be tricky!
Cyprus is a retirement haven for many expats, particularly Brits. English is spoken widely and it's also one of the safest places in Europe. Finally, and most importantly, relocating to Cyprus is a cinch, thanks to the government's relaxed stance on immigration.
Below, we've listed some of the most popular destinations for expat retirees looking to move abroad. No matter what you're looking for, Cyprus is sure to provide!
Buying property in Cyprus to retire: Best locations
When discussing expat destinations in Cyprus, you'll find that most recommend living in the south. Cyprus's troubled history has divided the country between the Cypriot-Greek south and the Turkish north.
The south is what most people think of when they think of 'Cyprus,' and while the north can be equally beautiful, the culture, mannerisms and language are a bit far removed from what most are familiar with.
We've detailed some of Cyprus's most famous southern cities below, particularly those renowned for their large expat committees and retiree populations.
Limassol – Best for a balanced retirement
The city of Limassol, located on the southern coast, is one of the most popular retirement destinations in Cyprus. Often called the entertainment capital of Cyprus, there is always something to do. In addition, the city is home to amazing historical and architectural designs, sure to please any history buffs.
Limassol is highly diverse. There's a bevy of restaurants, cafes and pubs. It's also the business capital of Cyprus, which has fostered a growing expat community looking for the perfect balance between city living and beach fun.
Limassol has a reliable public transportation system and great amenities. Surrounded by quiet, historic towns, it's perfect for those who want to escape the city. The downside is a higher cost of living compared to other expat hotspots, but Limassol is still cheaper than living in most major European cities.
Paphos – Best for affordable retirement options
Paphos, located southwest of Cyprus, is the first choice among British expats who want to live in the countryside but still have access to modern amenities. Paphos has excellent shopping districts, and easy access to an international airport, all within comfortable driving distance from the many dainty villages dotted around the city.
While Cyprus is considered safe in general, Paphos is exceptionally safe, with the lowest crime rates in the country. It's also surprisingly affordable, slightly cheaper than Nicosia or Limassol.
The only downside perhaps is that Paphos is a famous tourist resort, expect there to be a fair amount of tourists in the city centre and harbour in the summer.
Nicosia – Best for national parks and nature trails
Most international flights pass through Nicosia. It boasts some of the best transport infrastructure in the country. If you're looking for cheap living and don't mind an hour's drive to the nearest beach, then Nicosia might be the place for you. As the primary travel hub for Cyprus and surrounding cities, most speak fluent English, making getting around much easier.
Finally, Nicosia probably has a greater list of attractions than any other city in Cyprus. From the 840 hectares of parkland and the Athalassa National Forest Park to hiking trails up winding mountains, it has everything.
Lacarna – Best for fine-dining and healthcare
Larnaca is the wine capital of Cyprus and is known for its top-notch cuisine. Most interestingly however, is that the Cypriot government has earmarked Lacarna as an almost purpose-built retirement destination for expats.
Larnaca caters to the wealthy expat looking for a safe, quiet, and convenient retirement destination. As such, it hosts some of the most advanced medical facilities in the country, low income tax and pensions not subject to withholding tax.
Ayia Napa – Best for an active lifestyle
Another British favourite, Ayia Napa is a famous seaside resort sporting 14 beaches, all of which have Blue Flag status. This makes it one of the best tourist destinations in summer and attracts students who populate the beachside bars and work through the summer breaks.
As you might imagine, Ayia Napa is a busy, vibrant town filled with parties, events and bars. While it may not be everyones' cup of tea, Ayia Napa still makes an attractive place to live with its family-friendly culture, widely spoken English and cheap rent.
Ayia Napa can be the perfect place to retire if you fancy endless days on the beach and enjoy the excitement tourist season brings to the city.
Protaras – Best for clean beaches
Close to Ayia Napa, Protaras sits on the pristine coastline of Cyprus's Fig Tree Bay. It has many of the same attractions as Ayia Napa but is generally quieter and less popular with tourists, owing to its recent development.
Sporting pristine beaches, plenty of restaurants, and frequent buses into Ayia Napa, Protaras is more popular with retirees than party animals. The cost of living is similar to Ayia Napa, expensive for tourists but affordable rent and real estate for those looking to move there permanently.
What is required to retire in Cyprus?
To retire in Cyprus, non-EU citizens must apply for a category F residence permit. This permit is only suitable for retirees as it does not provide the right to work or grant healthcare, pension or tax benefits. A category F permit is simple to obtain and can be renewed indefinitely. All that is required is proof that you meet that annual passive income minimum (roughly €9,568 for a single applicant, though this is subject to change). This process can take 5 to 12 months.
How easy is it to get permanent residency in Cyprus?
Cyprus introduced a 'Golden VISA' plan in 2007, allowing international migrants to secure permanent residency through investment.
To be eligible, expats must purchase property valued at €300,000 or more. Those who buy property valued at €2,000,000 or more are immediately granted citizen status, a pension and any other benefits this may provide.
What changed after Brexit?
As of the 31st December 2020, British passport-holders are considered Third-Country Nationals (TCNs) and must follow the same residency application procedures as any other non-EU national. There are some exceptions granted to those already living in the EU prior to Brexit.
How can I get a UK mortgage for an overseas property in Cyprus?
You can't use a UK mortgage to purchase an overseas property. You'll need to obtain a mortgage from a lender in Cyprus.
Luckily, banks in Cyprus are more than happy to provide mortgages to citizens and non-residents. Citizens of non-EU countries however, must obtain permission to own real estate through a Council of Ministers' Permit.
While this can be time-consuming, buyers have the right to settle in their property before you receive official permission (provided you're confident your paperwork is in order).
Naturally, this requires you to open an account with a Cypriot bank, with which you will take out a mortgage. While English is spoken by many in the country, all legal documents will still need to be translated between English or Cypriot (which can add a couple of months to the time it takes for the whole process).
How can I move money safely to Cyprus?
Buying property abroad, securing a foreign mortgage and retiring in Cyprus can be a tricky prospect without adequate preparation.
Those who aren't familiar with moving large sums of money are at risk of being caught by predatory FX practices and unscrupulous bankers.
If you're considering retiring abroad soon, make sure you choose a FCA authorised payment provider to guarantee your personal information and sensitive data are protected and your money safe.
Make sure you avoid hidden charges and unfavourable exchange rates by going for a currency broker who will offer you a much better and cheaper service than your bank.
Matthew Swaile
Copywriter