Your guide to retiring in Portugal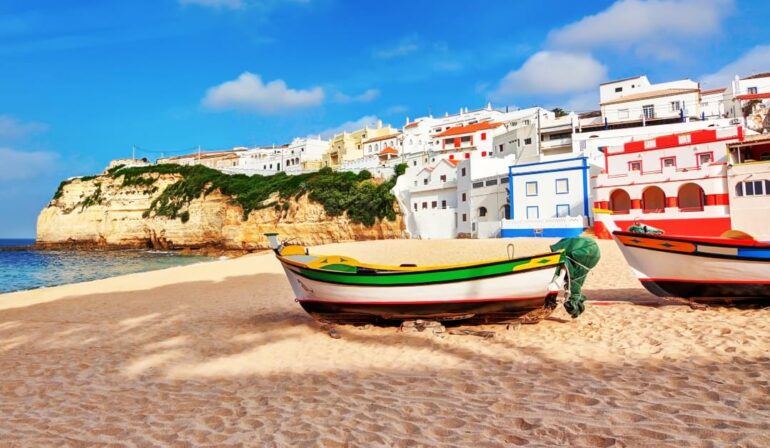 Portugal has become one of the most popular destinations in Europe for retirees from the UK and US, and for good reason. Portugal has a storied history and vivid culture. Visitors are often impressed by the wealth of activities and sights, and the local sense of community.
Boasting amazing weather, affordable living, expert healthcare services and a large expat network, Portugal offers an easy transition into retirement for foreign migrants.
Top 5 cities to retire to in Portugal 
Do you long to live in a big city with vibrant culture, or would you rather fall asleep to the soothing sound of waves crashing on the beach? Want to awaken to the chime of church bells or the sounds of birds and wildlife? No matter your preference, Portugal has much to offer retirees from abroad. Here are our selection of the best cities to retire in Portugal:
1. Lisbon – Best for expat communities
As Portugal's capital city, Lisbon has the largest population, most amenities and some of the best attractions the country has to offer. It has become home to pensioners from around the world. The thriving local expat community will welcome anyone seeking a lively retirement – it's no wonder Lisbon has been named one of the top 10 cities for pensioners. 
Lisbon has many activities to amuse visitors: 60 museums, multilingual theatre productions, beaches and world-famous restaurants are just a few worth mentioning. Lisbon combines charm and modern convenience to help you settle in and feel right at home. 
Lisbon is the smart choice for those who want a little bit of everything in their retirement years. 
2. Porto – Best for foodies
Porto is Portugal's third largest city, found just 3 hours drive north of Lisbon. Situated on the Douro River, Porto derives its name from the city's famous port wine. The river-side boulevards are filled with distilleries, wineries and restaurants. Meals are always accompanied by a glass of wine, of course. While wine is still a major export, the 'Rabelo boats' moored along the river are mostly for display. 
Porto's rich and distinct culture separates it from other parts of Portugal. Porto residents, called 'Tripeiros,' are the ultimate hosts and will go out of their way to accommodate visitors. Personal connections are of the utmost importance in Porto, and businesses encourage visitors to return with warm, friendly attitudes. 
The city has great shopping districts, malls, excellent healthcare, amazing weather and some of the best local dishes Portugal has to offer – no day is complete without picking up a quick 'Pastel de Nata'. 
English is commonly spoken, making it easy to fit in with the locals. The laid-back atmosphere and long winding streets make it a joy to meander around the city's amazing architecture. Porto is about enjoying life at your own pace. 
3. Lagos – Best for sea-side living
A few hours south of Lisbon you'll find Lagos – one of the most popular towns on the Algarve, and hugely recommended by people who live here. The town sees its fair share of travellers and tourists, but also attracts people from all walks of life. 
The Algarve region has some of the warmest weather in the country. Lagos's many beautiful beaches attract crowds of beach-goers and surfers, year-round. The coastline has spectacular vistas of grottoes, rock formations and caves that can be explored by boat. 
While there is the odd souvenir shop, they blend in amongst the surf stores, street art, and 'hippy culture' of hemp products and tie-dye t-shirts. Lagos's central 'old town' meanwhile, still retains its charm with tiled plazas, ancient forts and classic architecture. 
English is spoken by almost everyone, making it easy to orient yourself and make new friends. Lagos' culture is complimented by great infrastructure – public healthcare, transport, and retail are readily available. Retiring in Lagos is made even better by the pedestrian-friendly streets. It's possible to walk pretty much anywhere, not the case for many of Portugal's more populated cities.  
4. Madeira – Best for isolation
Portugal is surrounded by islands that each have their own unique appeal. The famous Azores is an archipelago of nine islands. Madeira, one of the largest, sits midway between the coast and furthest islands. 
Madeira offers many of the same benefits you'd find in mainland Portugal, but with a uniquely peaceful and quiet setting you'll be hard-pressed to find anywhere else. The weather, laid-back atmosphere, natural habitats and friendly locals have attracted a growing expat community of pensioners. Best of all, this island paradise is far more affordable than anything found in the Caribbean.
Madeira is a great place for those who want to live away from the bustle of the city, and be closer to nature. While the cost of living may be a tad high owing to a large number of summer tourists, you can still find great property prices due to the relatively small permanent population. 
5. Braga – Best for full immersion
Like many Portuguese cities, Braga was influenced by centuries of Roman occupation. Rumoured to be the oldest city in Portugal, the city's distinct architecture and landscape still reflect its ancient history.
The tiny population is primarily Portuguese, but you'll find a sprinkling of expats here and there. Unlike most other destinations listed here, speaking Portuguese is a must, even if only a little. You'll find most of the older generation don't speak English, but the growing younger generation does. Many shops and restaurants will do their best to cater to English speakers, but to find the best spots, you'll need to wander away from the city centre. 
Braga's climate is moderate, similar to nearby Porto's and not unlike other Mediterranean towns. For all it can offer retirees, Braga is comfortably affordable. This makes it a prime destination for expats who need affordable accommodation without sacrificing convenience. 
How to retire in Portugal
Retiring to Portugal is easy if you're an EU citizen or live in any nation which belongs to the European Free Trade Association (EFTA). EU and EFTA nationals can apply for a temporary residence permit from the Portuguese Immigration Service (SEF). Applicants from the EU or EFTA enjoy the same benefits as Portuguese nationals.
Temporary residence permits are valid for one year and must be renewed annually. After living in the country for at least five years, you can apply for permanent residence.
If you intend to emigrate to Portugal but are not from an EU/EFTA country. You'll first need to apply for a residence permit at your domestic Portuguese consulate:
To qualify, you'll need:
A valid passport
Proof of income (enough to support yourself and any dependents)
Proof of health insurance.
Rules vary depending on your country of origin. Non-EU citizens can get a renewable temporary residence permit for one to three years. After five years, you can apply for permanent residence.
If you want to move immediately, but are waiting for legal documents, you can apply for a short-term visa for 3 or 4 months. They are only granted if the Portuguese government is confident you will pass subsequent residency checks.
Portuguese 'Golden visas'
Like many EU nations, Portugal has a 'golden visa' scheme. This is a fast-track route for non-EU residents to gain residence rights in Portugal.
Golden visas are designed to attract foreign investors to Portugal. To get a golden visa, you'll need to do one of the following:
You can qualify for residency by investing €280,000 which is one of the lowest investment thresholds in Europe
Make a capital transfer of €1.5 million or more to Portugal.
Invest at least €500,000 in Portugal's scientific or technology industries.
Those who qualify for a golden visa will receive a 2-year residence permit, after which a longer 3-year permit will be issued. After five years of holding a golden visa, you can apply for Portuguese citizenship.
Taxes in Portugal 
Portugal taxes all income. This includes pension income and income from international sources. However, the Portuguese government is taking steps to make the country more welcoming to expatriates. One such scheme includes the Non-habitual Residence (NHR) status. 
The NHR plan is available to those who have lived in Portugal for less than five years and exempt them from Portuguese income tax for ten years. Exempt taxes include income from work, investments, capital gains, pensions, and rental income.
How can I move money safely to Portugal?
Buying property abroad, securing a foreign mortgage and retiring in Portugal can be tricky without adequate preparation.
Those unfamiliar with moving large sums of money are at risk of being caught by predatory FX practices and unscrupulous bankers. 
If you're considering retiring abroad soon, make sure you choose an FCA-authorised payment provider to guarantee that your personal information and sensitive data are protected, and your money is safe.
Make sure you avoid hidden charges and unfavourable exchange rates by going for a currency broker who will offer you a much better and cheaper service than your bank.
Matthew Swaile
Copywriter