Italy: home to the best work-life balance in the world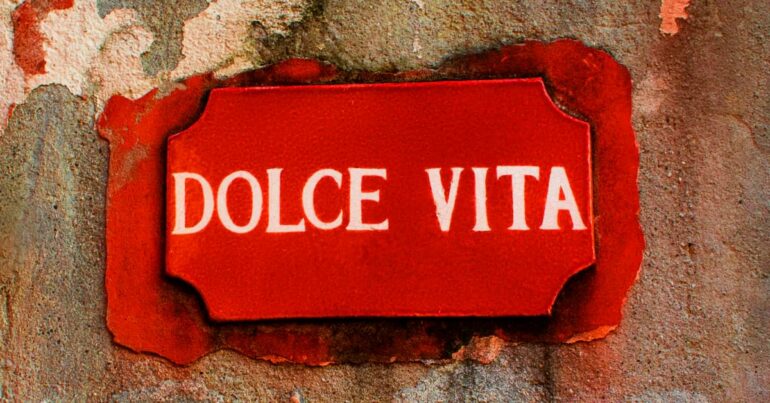 The Organisation for Economic Co-operation and Development (OECD) focuses on promoting policies that improve the economic and social well-being of people around the world. Its Better Life Index – a study of 22 OECD countries – provides a framework for measuring and comparing well-being in different countries based on 11 topics the organisation has identified as essential in the areas of material living conditions and quality of life. This includes work-life balance, which has become increasingly important as societies evolve and work patterns change.
According to the OECD: "Finding a suitable balance between work and daily living is a challenge that all workers face. Families are particularly affected. The ability to successfully combine work, family commitments and personal life is important for the well-being of all members in a household. Governments can help to address the issue by encouraging supportive and flexible working practices, making it easier for parents to strike a better balance between work and home life."
Key indicators of work-life balance
The OECD examines a broad range of factors to assess the balance between work and personal life – such as average working hours, parental leave policies, access to childcare, time devoted to leisure and personal activities, and the availability of flexible work arrangements.
Two key indicators of a country's work-life balance ranking in the Better Life Index are working hours and time devoted to leisure and personal care.
Evidence indicates that long hours at work may impair personal health, jeopardise safety and increase stress. According to the index:
10% of employees in the OECD work 50 hours or more per week in paid work.
Overall, more men work very long hours in paid work; the percentage of male employees working very long hours in paid work across OECD countries is almost 14%, compared with about 6% for women.
The more hours people work, the less time they have to spend on personal care or leisure – the amount and quality of which plays a critical role in determining people's overall well-being. According to the index:
A full-time worker in the OECD devotes 63% of the day on average, or 15 hours, to personal care (eating, sleeping, etc.) and leisure (socialising with friends and family, hobbies, games, computer and television use, etc.).
Fewer hours in paid work for women do not necessarily result in greater leisure time, as time devoted to leisure is roughly the same for men and women across the 22 OECD countries studied.
Why you should live and work in Italy
Italy is home to the best work-life balance in the world with a score of 9.4 out of 10 in the OECD Better Life Index – and it's easy to see why it has pipped nations like Denmark and Norway to the top spot when you take a look at the country's progressive labour and social provisions:
Flexible labour laws govern work hours and holiday pay, with Italians expected to complete a 40-hour working week – which must not exceed 48 hours, including overtime.
The nation's forward-thinking social security system offers paid parental leave.
The first-class tax-funded public healthcare system provides free or low-cost services to all workers.
The Italian Ministry of Economy and Finance provides a free care and entertainment service aimed at children of its employees from 4 to 12 years old.
According to the OECD stats:
Around 3% of employees work very long hours in paid work – much less than the OECD average of 10%.
Full-time workers devote 69% of their day on average – or 16.5 hours – to personal care and leisure – more than the OECD average of 15 hours.
With all that free time on your hands, you can concentrate on joining the locals in doing what they do best: playing and watching the beautiful game, eating their body weight in pizza and pasta, washing the fine food down with equally fine wine, and enjoying each other's company in spectacular surroundings.
Embrace the Italian culture
The relaxed Italian culture also lends itself to a favourable work-life balance in many ways:
Cultural values
Italian culture places a strong emphasis on enjoying life, taking time for leisure, and valuing family and social relationships – or, as the locals like to call it: "la dolce vita". This cultural attitude contributes to a more balanced approach to work and personal life.
Siesta culture
Many Italian cities and towns still observe a siesta – a midday break which allows workers to go home and have lunch with their families. This break provides a natural pause in the workday, promoting relaxation and social interaction.
Long meal times
Italians are known for their long and leisurely meals – and who can blame them, given the fabulous climate and divine food and drink? This promotes social interaction and relaxation, as meals are seen not just as a source of nourishment but as a time to connect with friends and family.
Generous holidays
Italy, like many European countries, typically offers more generous holiday durations compared to countries like the United States, allowing workers to take longer breaks and recharge.
Strong union influence
Labour unions in Italy have historically played a significant role in advocating for workers' rights and better working conditions. This influence has contributed to the establishment of policies that support work-life balance.
Focus on enjoying life
Italians generally prioritise enjoying life, pursuing hobbies, and spending time with loved ones. This cultural attitude can lead to a healthier separation between work and personal life.
Health and well-being
The importance of health and well-being in Italian culture also contributes to a balanced lifestyle. Enjoying good food, outdoor activities, and socialising are all integral parts of this approach.
Currency transfers
Wherever you choose the snow-capped mountains and glistening lakes in the north, the sun-drenched sandy shores in the south or the rolling verdant hills in between, there's something you must manage to make your move to Italy a success: your exposure to fluctuating exchange rates. To prevent this currency risk from inflating the international currency transfers that will underpin your move overseas, search for the best deal by comparing the world's leading foreign exchange companies here.