What is a biometric residence permit?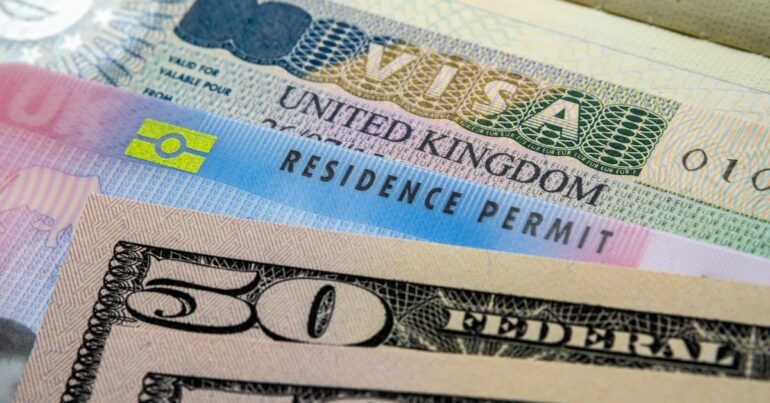 A biometric residence permit (BRP) is an ID card issued to non-EU nationals who need to live in the UK for more than six months. The card contains the holder's biometric data, such as fingerprints and photos.
The BRP was introduced in 2008 as part of the UK's efforts to tighten its immigration controls. The United Kingdom isn't the only country to issue biometric residence permits – other countries that have introduced similar schemes include the US, Canada and Australia.
This article will cover what a BRP is, who requires one, how to apply for one inside and outside the UK, and everything you need to know about the biometric residence permit.
Alright, let's dive right into it, shall we?
The biometric residence permit (BRP)
A tangible card the size of a typical credit card called a biometric residence permit (BRP) is the holder's evidence of identification, permission to study or work in the UK, and eligibility for any public services or benefits. It is intended to mitigate illegal immigration to the UK and is a simple method of accurately identifying a foreign citizen.
The permit is constructed of polycarbonate, has a unique document number, and has a biometric chip to increase its security against fraud and misuse.
It displays your biometric data, such as your fingerprints and face picture, and your biographical details, like name, date of birth, and place of birth. A BRP will be given to you if you:
Are applying to stay in the UK for a more extended period
Increase the length of your visa beyond six months
Relocate to the UK
Change your passport and transfer your visa
Apply for specific travel documents from the Home Office
What is a BRP used for?
Your identification can be verified via biometric residence permits. You'll find this card helpful when creating a bank account. It can also demonstrate your eligibility for public health services, benefits, and other funds to which you are legally entitled, and also your right to study in the UK.
However, BRP cards cannot be used as identification when applying for a job or a lease on a property.
Applying from inside the UK
If you are already a resident of the United Kingdom, visit a UK Visa and Citizenship Application Services service point or a Service and Support Center (SSC). The government website may include information on where to find your nearest location.
There is no ink used in this quick and tidy procedure, which lasts 5 to 10 minutes. Furthermore, you are not forced to take off a head covering that you are wearing for religious or medical reasons.
To apply for a biometric residence permit from inside the UK, you must:
Complete an online application
Pay the application fee (usually costs £19.20)
Send your supporting documents to the address given in the guidance
Have your biometric information (fingerprints and photo) taken at a visa application centre
Attend an interview at the visa application centre, if you're asked to do so
Wait for a decision on your application
Applying from outside the UK
Applicants applying for a Biometric Residence Permit from outside the UK must submit their application online. They must provide their biometric information, including their fingerprints and digital photo.
They will also need to provide proof of their identity, proof of their current address, and proof of their immigration status. Once in the UK, you must pick up your biometric residence permit.
Who gets a biometric residence permit?
BRP cards are intended for individuals in certain situations. Typically, you'll receive one if:
You've submitted a permanent residency application to the UK.
Your visa is being transferred to a new passport.
You're applying for another Home Office travel document, such as a refugee or a travel certificate.
Is a biometric residence permit necessary, and why?
A biometric residence permit is required to verify your eligibility for public services or benefits and your right to remain, study, or work in the UK. If you want to create a UK bank account, you may use it as proof of identification.
The biometric residence permit you present to potential employers may also have a National Insurance number (Nino) printed on the reverse for specific immigration categories. If so, you won't need to apply for a Nino separately from your employer at the DWP.
The Department of Work & Pensions may have assigned a National Insurance Number during the visa application process; if so, it will be displayed on the reverse of the BRP. If it isn't, you can phone the National Insurance number application line to get a form, which must be filled out and sent back with documentation of your identification and authorization to work in the UK.
Your biometric residence permit is not required to be carried at all times, but you must present it at the UK border with your passport when leaving and entering the country.
The card will indicate your leave's expiration date and any other conditions imposed on your ability to remain. As a result, your permission will be valid while you are on vacation.
Do children need to provide biometric information?
Even though the kind of biometric data requested will vary depending on the applicant's age range, applicants under 18 must still provide it. Any youngster who is less than 16 must also be accompanied by a parent, guardian, or another adult who is responsible for them legally.
Children under 16 must submit a fingerprint scan and a headshot but are exempt from providing a signature. In addition, the child will not be required to provide their fingerprints if they are under 6.
For people 16 years or older, providing the same biometric data as an adult—a fingerprint scan, a digital photo of their face, and a signature—is required.
What is the timeframe for a biometric residence permit?
Where you submit your visa or immigration application will determine how you receive your biometric residence permit. Suppose you submit your application from within the UK.
In that case, your receipt will be sent by courier to the address you provided in your application within 7 to 10 days after receiving the Home Office's decision letter approving your right to stay in the country.
If you submitted your application from outside the UK, you must pick up your biometric residence permit whenever you arrive in the country. Before the vignette sticker on your travel document expires or within ten days of your arrival in the UK, you must do whichever comes first.
If you selected this option when you applied, you would be informed in your decision letter where to pick up the permit from a specific post office branch or your sponsor.
What is the procedure for renewing or replacing a biometric residence permit?
Suppose the length or conditions of your visa need to be corrected after you receive your biometric residence permit and submit your application from within the UK. In that case, you may request an administrative review.
Additionally, you can report issues online, such as the fact that your permit was damaged upon delivery or that your name contains an error. Any issues must be reported within ten days, or you risk paying for a replacement. Any changes to your personal information must be reported as well.
If your biometric residence permit was in force for three months or more and you requested a replacement from the UK, you are again obligated by law to notify the loss or theft. You must apply for a replacement within three months to avoid paying a fine and being forced to leave the UK.
Even if you don't plan to stay in the UK after your visa expires, you must still report it as lost or stolen if it was only valid for three months or less. Alternatively, you can apply for a replacement if you want to leave and return to the UK within three months of its expiration date or for an extension if you continue in the UK after that period. If approved, you will instantly receive a new permit.
You must still report the loss of your biometric residence permit even if you are outside the UK. However, it would help if you petitioned for a 'BRP replacement visa,' which costs £154 and permits you to enter the UK once. Then, when you are back in the UK, you can apply for a replacement permit.
Conclusion
The main purpose of the BRP is to help the UK authorities keep track of those living in the country and to prevent immigration fraud. The card also makes it easier for holders to prove their right to live and work in the UK.
If you are a non-EU national and need to live in the UK for more than six months, you'll have to apply for a BRP. The application process is usually straightforward, but receiving your card can take several weeks.
We hope you've found this guide helpful and now have a more refined understanding of everything a biometric residence permit entails. If you'd like to get the best exchange rates for your international payments, we will be happy to help. Stay frosty!