USA Bank Details Required For US Dollar Money Transfers
Perhaps you've just bought your dream property in Florida or are thinking of making the big move to California. Whatever the reason for sending US Dollars, you will need a few key pieces of information for a successful transfer. In today's episode, we will cover these key details and a few extra measures you should take to make sure your transaction is safe and secure.
Good morning and welcome to another edition of MyCurrencyTransferTV. So, you need to send money to the USA. You have your supplier invoice or perhaps you need to send a few thousand dollars to a friend in New York.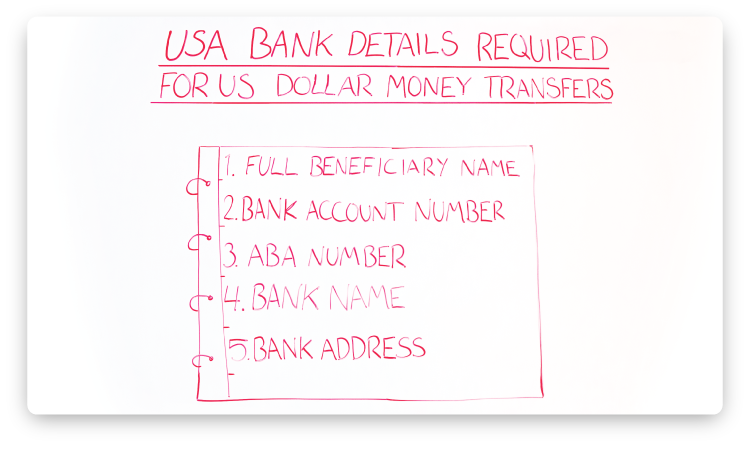 When making an international money transfer to the USA, you'll need to provide:
Full beneficiary name
Bank account number
ABA number
Bank Name
Bank Address
When sending money to the USA, you need to know the receivers ABA number. Unique ABA numbers are allocated to each financial institution by the U.S. Federal Reserve. Interestingly, banks in the US, New Zealand, Australia, Hong Kong, Singapore and UK do not require you to provide an IBAN or a Swift code.
If you transact with a currency broker, you can access up to 85% cheaper quotes than the banks. Currency specialists call into the live markets when buying US Dollars, whereas banks set their rates once or twice a day. Markups away from the 'real exchange rate' can be up to 5% or more. However, check their credentials. Ensure your foreign exchange supplier is authorised and regulated by the FCA. The FCA stands for the Financial Conduct Authority. Ensure all client funds are safeguarded in segregated client accounts, separate from the day to day running of the business.
Finally, ask your non-bank foreign exchange specialist if they have local bank accounts in the USA, where they can send on the converted US Dollars. Some will have, some won't. This effectively will eliminate any charges to receive USD international transfers.
We hope you enjoyed this episode of MyCurrencyTransfer.com TV. If you have any questions, feel free to tweet us @mycurrencytrans or email me directly, [email protected]
Have a great day and good luck when sending funds to the USA!
Written by Daniel Abrahams on Google+