Top facts you should know when buying a property in Spain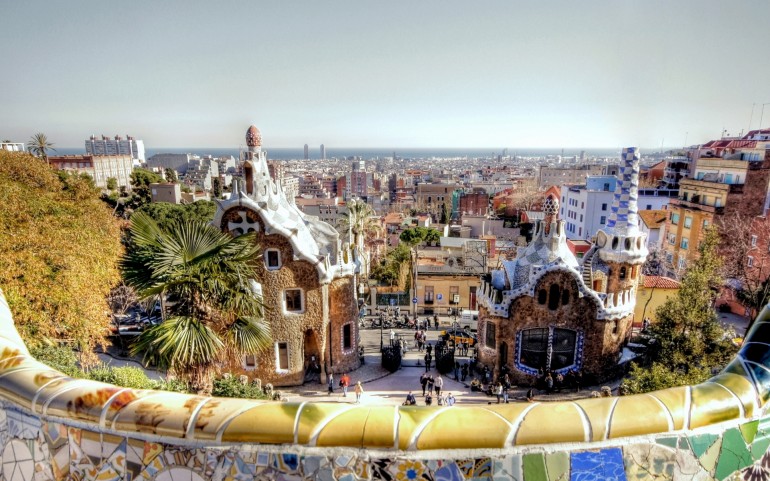 Whether you are thinking of buying a finca in picturesque Andalucia or an apartment in cultural Barcelona, there will ultimately be a number of challenges you will face during the buying experience. As exciting as the prospect of a holiday home may be, you will inevitably have to face the problems of legal procedures in a foreign language.



Hi there and welcome to another episode of My CurrencyTransferTV. So a couple of weeks ago we got a great response from our Top Facts you need to know when buying a Property in France video. So today, we're going to give you the same great info when buying a property in Spain. So from taxes & procedures, to combating the language barrier, stay tuned for our top facts.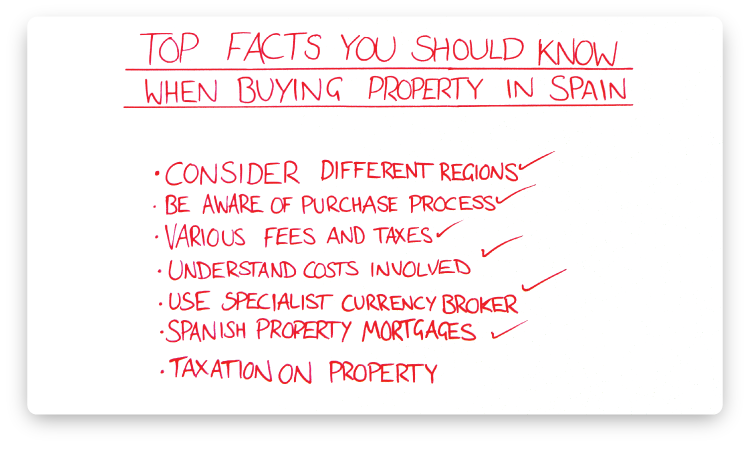 Consider the different regions
Spain still has much to offer the property purchaser, from small apartments and fincas to palatial frontline beach properties and golf villas. Popular locations in Spain include: The Costas, The Canary Islands and The Balearics.
Purchase process
Before you begin the purchase process, you will need to obtain a fiscal number (numero de identificacion de extranjeros). You should also retain the services of a lawyer who speaks Spanish and English. In the case of an off-plan purchase, you will be asked to sign a reservation contract and pay a small fee, at which point the property will be taken off the market for a limited period. This allows time for legal checks to be carried out and a contract of sale (escritura de compraventa) to be drawn up, and for you to make the first of a series of payments. This first payment is normally 10% or more of the purchase price and is non-refundable.
Fees & taxes
Once completion has taken place, various fees and taxes are payable, and the property is then registered at the Land Registry. Some sellers of resale property in Spain will encourage you to under-declare the value of the property to the authorities, and pay a proportion of the price in cash in order to secure a slightly cheaper price. This is illegal, and is done purely so that the seller can avoid paying part of the capital gains tax that they will owe on the property. If sellers insist on taking cash 'under the table' walk away from the deal.
Costs involved
As a yardstick, anyone buying property in Spain should allow between 10-14% on top of the agreed purchase price for the various fees that must be paid. The buyer pays:
Legal fees usually between 1-2%
IVA (Spain's equivalent of VAT) at around 7%
Stamp duty at 6–7%
Notary and property registration fees of about 1%
Specialist Currency Brokers
When making payments to Spain whether it be notary and legal fees or when it comes to property maintenance later on, we always recommend using a specialist online currency broker. Aside from being able to use forward contracts to secure exchange rates, sending money becomes much more simple saving you the hassle of trips to the bank, and paying extortionate international transfer fees.
Spanish mortgages
Learn the ins and outs of Spanish property mortgages. There are two main options for using a mortgage to fund your property purchase. These are remortgaging your UK home or arranging a mortgage on your Spanish property through a UK or Spanish lender.
Taxation on property
Be thoroughly aware of the taxation on property in Spain. In Spain, taxes are levied by three tiers of government: central government, autonomous regional governments and local municipalities. The Spanish tax system is particularly complex, and you are strongly advised to seek professional advice tailored to your individual circumstances. As a non-resident you will be liable to a personal tax rate at a flat rate of 24% on Spanish sourced income. Additionally non-residents are liable for patrimonio which is wealth tax. As well as local taxe which is the impuesto sobre bienes inmuebles levied by the local municipality.
So we hope you have enjoyed this episode on what you need to know when buying property in Spain and wish you the best of luck with your purchase! If you have any questions please do not hesitate to tweet us @MyCurrencyTrans
Written by Sofia Kluge on Google+