How to move abroad with pets: a step-by-step guide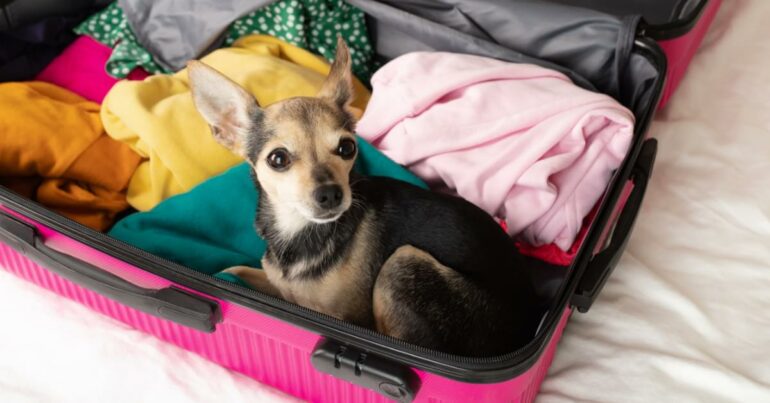 Furry friends are very popular across the world: roughly two-thirds of households in the UK, US and Australia own a pet. As members of your family, you'll want them to join you when you move overseas – and you'll want their journey to be as comfortable and seamless as possible.
A pet relocation doesn't have to be a complex process. With proper planning and preparation, you can ensure a smooth transition for your pampered pet. Here are ten general steps to help you navigate the process.
1. Research import requirements
Kick off by researching the import requirements of your chosen destination. Each country will have its own rules and regulations governing the importation of pets. Find out about any mandatory vaccinations, quarantine periods, microchipping, and other necessary procedures. For the most accurate and up-to-date information, contact the embassy or consulate of the country you're moving to.
Some countries have stricter pet importation rules than others – some don't allow certain types of animals, while some only permit specific breeds. For example, if you're moving to New Zealand, you can't take birds, reptiles, mice, rats or ferrets with you.
2. Speak to your vet
Contact your vet before setting off to ensure your pet is in good health to travel and up-to-date on all its required vaccinations. Some countries may have specific vaccination requirements, so consult with your vet about any additional shots or treatments that are required.
Obtain several months' supply of prescribed medications from your vet so you don't have to rush around trying to find a new vet when you arrive in your new home.
3. Choose a pet transport method
Depending on the distance you are moving and how you're getting there, you might want to use a pet relocation service. Consider factors such as your pet's size, breed, and any specific travel restrictions that may apply.
These companies provide a comprehensive service, covering everything from arranging the necessary vaccinations and paperwork to arranging their travel and arrival. When researching a pet relocation service, make sure they're certified by a recognised domestic body.
4. Contact the airline
If you're flying to your new home, check the regulations of the airline you plan on using. Each airline has its own rules and requirements for transporting pets, so make sure you understand the guidelines regarding carriers, documentation, and any fees involved.
They can also provide helpful information regarding crate or carrier size and what you need to bring with you on the day. If your pet is under a certain weight, they might allow them to fly in the cabin with you in a carrier.
5. Obtain the necessary documentation
Research the required documentation for importing your pet to your chosen destination. Common documents include a pet passport, health certificates, vaccination records, and import permits. Ensure you have copies of all necessary paperwork and that everything is signed and dated where needed. This is where a pet relocation service might come in really handy.
6. Microchip your pet
Most countries require pets to be microchipped before they can make the move. This gives them the best chance of being identified and returned if they get lost or stolen. If your pet isn't already microchipped, contact your vet who can do it for you – and make sure the microchip is registered with your current contact details. Check that they use an ISO microchip – transponders in many countries can't pick up non-ISO microchips.
7. Plan the travel logistics
Arrange the travel itinerary for your pet, including booking flights, making necessary reservations, and ensuring you have the appropriate pet carrier or crate – again, a pet relocation service can help with this.
8. Research quarantine regulations
Find out if the country you're moving to has any quarantine requirements for incoming pets. If there is a mandatory quarantine period, make sure you plan accordingly and understand the procedures involved. Quarantine laws vary but are typically less rigid than in previous years.
9. Familiarise your pet with the carrier
Help your pet become accustomed to its carrier or crate before you set off. Introduce them to it gradually by leaving it open at home and encouraging them to spend time in it voluntarily by adding blankets, treats and their favourite toys. Increase the amount of time your pet spends alone in the carrier or crate, so they get used to being in it for a prolonged period.
10. Prepare for arrival
Research and prepare for your pet's arrival in the new country: find a local vet, find pet-friendly rental accommodation, find your local pet shop, find a dog-friendly local park (if applicable) and ensure you have all the essentials – like food and bedding – so your pet can settle in comfortably.
Currency transfers
It's not just your pet who will be moving overseas with you; your money will have to make the trip as well. Before you can start using your hard-earned cash to fund your new life, it will be exposed to fluctuating exchange rates during the international payment process. If overlooked, these constant market movements have the potential to drive up the cost of your cross-border payments – denting your finances.
Shield your budget from exchange rate fluctuations by working with a foreign exchange specialist before you leave. They will use their knowledge and experience to help you navigate the unpredictable currency market and leverage tools that allow you to lock in a favourable rate for future payments – so you know how much they will cost when the time comes to make them.
Manage your exposure to currency risk when moving overseas by comparing the world's leading foreign exchange companies here, so you can get the best deal when making international payments.