Top 5 Gap Year Destinations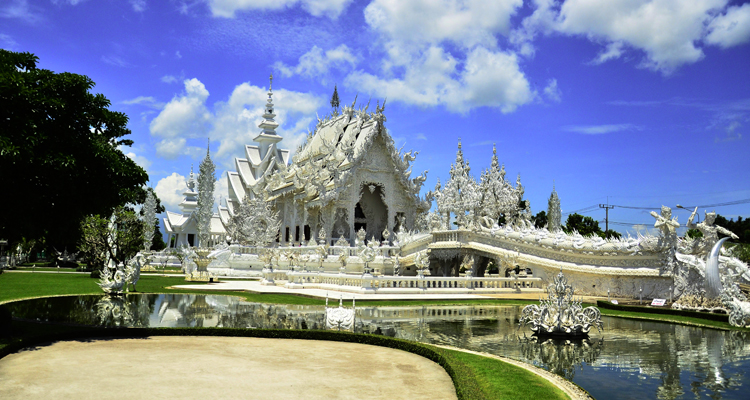 Thinking of taking a gap year? We thought so! With more and more school leavers and graduates deciding to take a gap year, the possibilities abroad are endless. From volunteering and teaching to just partying and travelling, sometimes it can be incredibly hard to choose which country is right for you! To help make the process a little easier, we've put together a list of the top 5 gap year destinations, and what makes them so special and unique.


Hi there and welcome to another episode of MyCurrencyTransferTV. So we're guessing you're probably graduating this year and thinking of exploring the wonderful world on an ever popular gap year. Maybe you graduated last year and have been working to save up for the trip of a lifetime. So 2014 has seen a load of destinations rise in to the most popular places to go on a gap year, and we're going to share those with you today.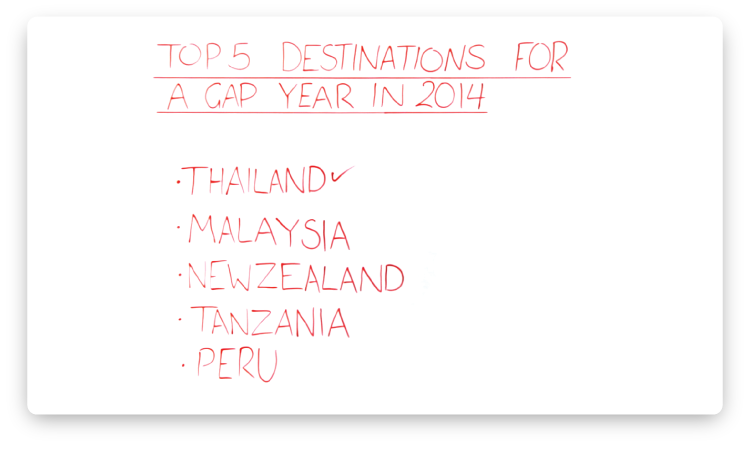 Thailand
Say hello to sun, sea and full moon parties! A 12 hour flight and the world is your oyster. Thailand is a magnet for backpackers and it's easy to understand why! You'll be able to find almost every type of accommodation from backpacker hostels to some of the most luxurious hotels in the world. Getting around is dead cheap and many people find themselves staying longer than intending, some people never leave. Want to find out why? Take a gap year in Thailand.
Malaysia
It's a blend of Chinese, Indian and local Malay culture, giving you three countries in one. Once you hit Malaysia, you may not want to leave. Malaysia really is a great place to travel. It's got pretty much everything you want and is a lot cheaper than places such as Singapore. From fascinating traditional culture to wilderness and plenty to see and do, you'll never be without something to keep you occupied. Some of the top things to do in Malaysia including volunteering and going on adventurous expeditions in Borneo and exploring the South East Asian Peninsula.
New Zealand
New Zealand is the perfect place for all you adventure lovers. If you're looking for climbing, hiking, trekking, bungee jumping, skydiving, white-water rafting, zorbing, or anything else for that matter, then New Zealand is the place for you. It really is one of those destinations for thrill seekers, almost like a giant theme park. If you were considering somewhere like Australia, we would definitely recommend swapping it for New Zealand.
Tanzania
Looking to volunteer while on a gap year? There are plenty of volunteering projects to choose from, such as teaching English as a foreign language or building a community centre, and in your down time you've got safaris and treks up Mount Kilimanjaro on your doorstep. You might think Tanzania is just a backpacking cliché but actually it really does have a diverse amount of super cool stuff to do. One minute you may find yourself in a bustling city and the next moment diving off the coast in to the ocean. If you're not too sure what you're looking to do in Tanzania, it's great for volunteering, tours and travelling independently so you've got plenty of time to make up your mind even once there.
Peru
When it can boast of sights such as the Amazon, the Nazca lines, Lake Titicaca, and of course Machu Picchu, it's easy to see why a lot of backpackers and travellers make this a must on their gap year. Of course it's famous for its Inca history but the capital Lima is also great for partying. Peru is a fascinating and beautiful country to travel, and a brilliant place to volunteer.  When it comes to taking a gap year in South America, it should be at the very top of your places to consider.
We hope you have found these top gap year destinations useful and we wish you the best of luck and fun on your gap year. Of course if you have any questions, feel free to tweet us @MyCurrencyTrans or email me at [email protected]
Written by Sofia Kluge on Google+