How to use a Currency Converter like a pro
Using a Currency Converter can be beneficial to your international money transfer. However, there are a few hints and tips that are good to know to make sure you are getting the most from your conversion tool. This video outlines how to use Currency Converters like a pro, maximising your money saving on international transfers.
Good morning and welcome to another edition of MyCurrencyTransfer TV. At some point, most of us need to transfer money abroad or jetting off overseas, so have a need to buy foreign currency.
Today, we're going to discuss how to use a currency converter like a pro. Done right, they can be your best friend & help you save you money. Not using one at all or using a currency converter the wrong way can leave you confused & worst of all, out of pocket.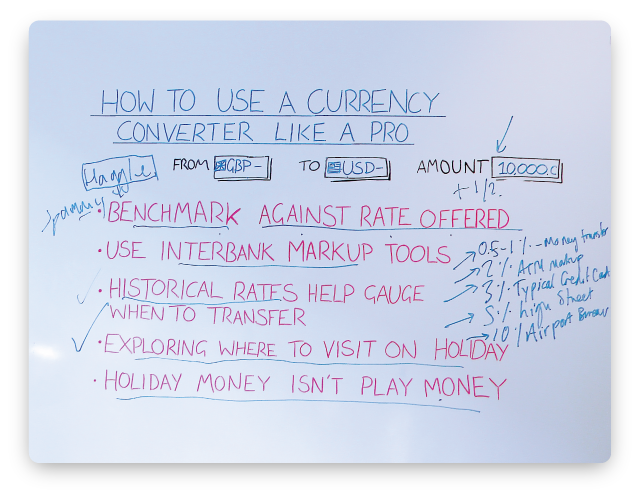 So, here are the 5 top tips on currency conversion:
Benchmark against the rate you are offered.
Golden rule 1. You'll never get the rate you see on a currency converter!
Let's say you need to make a British pound to euro currency transfer. You may be buying a property abroad or studying. The rates you see on a reputable currency converter are ''official'' interbank exchange rates. Holiday money & international money transfer rates are not reflected in these prices as they vary so wildly.
So, a currency converter serves the purpose of benchmarking the rate you are offered versus the ''real'' rate of exchange. It essentially tells you the true cost of conversion & how cheap or expensive your GBP to USD transfer was. It's also worthwhile to have on your screen when you are about to transact. If on the telephone / at an airport bureau, it can be used as a way to haggle on on the rate.
Be aware, most currency converters are pretty spammy and only update their rates once a day, if that! Always check the date that rates were last updated. Currency fluctuations can move many percentage points in a matter of minutes.
2. Use interbank markup tools to get realistic pricing
At MyCurrencyTransfer, we're building a currency conversion tool that let's you use the base interbank exchange rate data, and let's you add a custom percentage markup. These will include:
0.5- 1.5 %typical money transfer rate.
2% typical ATM rate.
3% typical credit card rate
5% typical high street
10% typical airport bureau rate.
This is a very useful way of being able to get a much more true & accurate representation of the cost your likely to incur when exchanging currency.
3. Historical rates can help you gauge the right time to transact
Many professional traders & brokers believe that charts and their associated patterns allow you to get that extra edge in determining which way a currency will fluctuate. They will use charts for help & guidance, particularly zoning in on short and long term performance of that particular currency pairing.
When you send large amounts of money abroad, check in on the historical rates & speak with your currency broker about opinion on charts. Not only will you appear more professional & well versed in the world of currency exchange, it may also lead to sharper telephone based pricing. If your transacting online & have time, charts can help you gain that extra edge.
4. Exploring where to visit on holiday
Short haul, long haul or staycation! For many, that is the question. Interestingly, a currency converter can be a really tidy tool in helping you decide where to visit. For example, it's becoming much more expensive to visit America (USD) or Israel (ILS) compared to a few years ago.
At MyCurrencyTransfer, we often run data mining exercises that compare rates from 12 -24 months ago, finding British or American holidaymakers as much as £80-100 better off visiting a specific destination versus even just 6-12 months ago. Charts & converter can be a great way to start planning your budget abroad & understanding how much you need to take abroad with you.
5. Holiday money isn't play money!
Currency converters are great to use on the fly, when you are abroad in a shopping centre, market or restaurant. Using a currency exchange app, you can check the true cost of that purchase. Money is money & whilst we are all pretty frivolous abroad, holiday cash shouldn't really be seen as play money!
Check out My Travel Buddy in the App Store.
I hope you enjoyed this episode of MyCurrencyTransferTV. If you have any questions, don't hesitate to get in touch @dan_currency or email me: [email protected]
Daniel Abrahams on Google +