Top 5 cheapest countries to buy property in Europe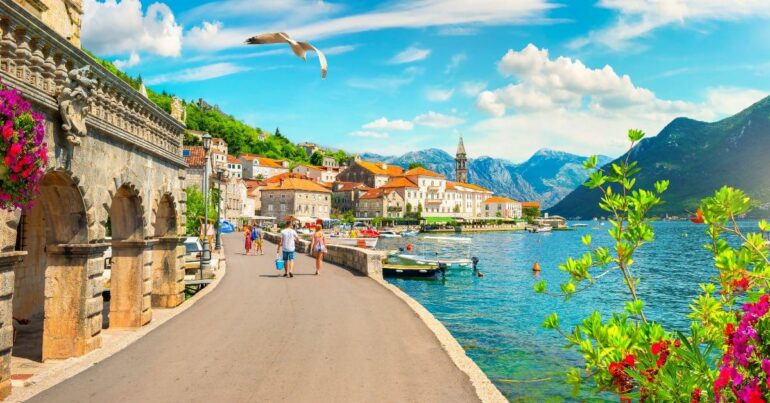 Do you have your heart set on joining the 35,000 Britons that buy a property overseas each year? Whether it's a holiday home, retirement patch, or savvy investment, you have a big question to answer before you can turn your dream into a reality: where in Europe will my budget stretch the furthest? Most of us would love to purchase a property on the fashionable French Riviera or nestled on one of the Italian lakes, but we have to be realistic with our readies.
So, let's take a trip off the beaten track around Europe to unearth five destinations that offer natural beauty, cultural charm, and that all-important supply of sunshine – all at an affordable price.
5. Slovakia
Slovakia has made huge strides since Czechoslovakia's break-up in the early 90s, evolving into a self-assured, independent nation right in the heart of Europe. The country might be landlocked, but what it lacks in coastal appeal it more than makes up for in illustrious history, castles, mountains, and mirror-still glacier lakes – which combine to illustrate its majestically rugged landscape.
Whether the capital Bratislava appeals with its resplendent old town, baroque palaces and crowning castle, or you'd prefer a rural retreat that unlocks the door to Slovakia's great outdoors – the High Tatras mountain range is home to breathtaking peaks that soar above 2,500m – you won't have to break the bank to purchase a property here.
Not only is the cost of living eminently affordable – the average cost is 45% less expensive than in the United Kingdom – the average property price is just €2,911 per square metre. While some eastern European countries might be a smidgen cheaper, demand from overseas buyers has been supported by low interest rates.
4. Latvia
Don't be put off searching for property in northern Europe by pricey places like the United Kingdom and France. Typically more expensive than many southern areas of the continent, there are pockets where prices are affordable – particularly in the Balkan states. Latvia is a prime example of just how far your money can go away from Europe's warmer climes.
You'd be forgiven for thinking a country that's lapped by the Baltic Sea is not awash with beautiful seaside scenery – but you'd be wrong. White-sand beaches amid pine-covered dunes are in plentiful supply around here. OK, the water might be a bit chilly compared to the Med but the setting more than makes up for it.
Lavia's tapestry of lakes and woods is only punctuated by one real city: its cosmopolitan capital, Rīga – the largest of the three Baltic capitals. Here you'll find Gothic spires overlooking a generous sprinkling of flamboyant art nouveau architecture.
The average cost of living in Latvia is 47% less expensive than in the United Kingdom. The average property price is just €2,789 per square metre – making it slightly cheaper than its Baltic neighbour Estonia, which is €3,190 per square metre.
3. Cyprus
The most popular destination on our list is an enduring favourite for holidaymakers and overseas property buyers alike – and it's easy to see why. Officially Europe's sunniest island – it basks in a reputed 300 days of sunshine a year – Cyprus is a banker for anyone craving a constant supply of vitamin D.
While sun-soaked stretches of sand are Cyprus' calling card, scratch the island's surface and you will also unearth its rich culture and landscapes steeped in myth. As the legendary birthplace of Aphrodite – the ancient Greek goddess of love and beauty – Cyprus has classical credentials to complement its stunning setting.
You can even ski here: the Troodos mountains – peaking at 1,952 metres on Mount Olympus – might be a modestly sized resort with 4km of slopes and five ski lifts, but it adds to the island's diverse appeal.
Limassol, Larnaca and Paphos are all popular with expats. With an average property price of just €1,678 on the island, you could call one of these seaside towns home on a shoestring budget.
2. Bulgaria
Awe-inspiring mountains, primaeval forests and enchanting historic cities are Bulgaria's traditional draw. This eastern European nation can also match the usual suspects – France, Spain, Portugal, and Italy – when it comes to three big things on an overseas property buyer's wish list: spacious sandy beaches, crystal clear water and balmy weather.
Bulgaria's Black Sea resorts, like Primorsko, Sunny Beach, and Sozopol are a magnet for sunseekers. Overseas property buyers that take a punt on these leftfield locations can live a relaxed lifestyle in stunning surroundings – and all at bargain prices. When it comes to the cost of living and property prices, Bulgaria is hard to beat: it's 59% cheaper to live in Bulgaria than in the United Kingdom, and the average property price is just €1,663 per square metre, compared to €12,796 in France, €6,589 in Italy, and €4,978 in Spain.
1. Montenegro
When it comes to enjoying the Adriatic, Croatia has hogged the limelight in recent years. But its diminutive neighbour to the south can more than match it when it comes to majestic mountains, breathtaking beaches and ancient walled towns. Two-thirds the size of Wales and just 300km from top to bottom, Montenegro is living proof that good things come in small packages – from some of Europe's most spectacular seaside scenery, to the mountains of Durmitor and Prokletije, to the ancient forest of Biogradska Gora.
The average cost of living in Montenegro is a whopping 57% less expensive than in the United Kingdom – while Croatia is 43% less expensive. Property prices are lower too: €1,400 per square metre, compared to €1,978 in Croatia.
How to make your money go even further
Don't let constant fluctuations in the foreign exchange market dent your overseas property budget. Manage this risk proactively by working with a currency specialist. They can provide guidance around the tools you can use to lock in exchange rates for future international payments – shielding the price of your property from currency risk between making an offer and paying.
To mitigate your exposure to currency risk during the overseas property buying process, click here to compare providers.