Top 10 Things expats miss about the UK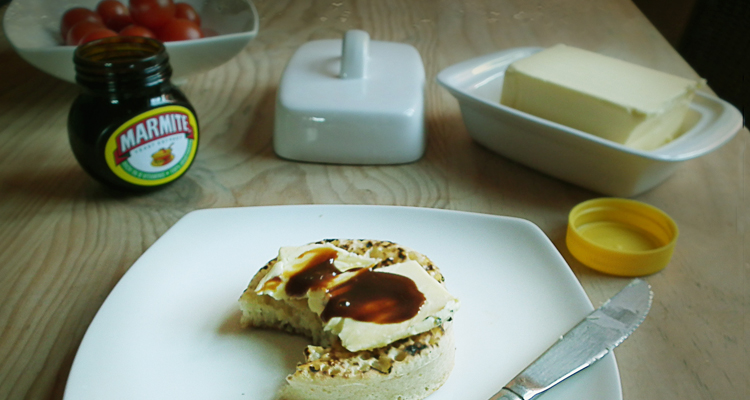 Whether you're already a UK expat or you're thinking of making the big move abroad, have you ever taken a moment to consider the things you really miss about Britain? From the wet countryside to cotton briefs, British expats have voted the top 10 things they miss most about the UK.



Hi there and welcome to another episode of MyCurrencyTransferTV. Today we have a great episode in store for you! Just because we're loving the weather here and it's got us in haphaphappy moods! So we've done some thorough research and found out the top 10 things that expats miss about the UK! And no, oddly enough, the stunning and ever-reliable British weather are not amongst the top 10! The country of Shakespeare, Churchill, the Beatles, Sean Connery, Harry Potter. David Beckham's right foot. David Beckham's left foot, come to that as Hugh Grant so rightly states in that wonderful British film, LoveActually. But it's not just the people, and our glorious ability to not take ourselves too seriously; in fact it's those too often forgotten and overlooked aspects that we miss the most.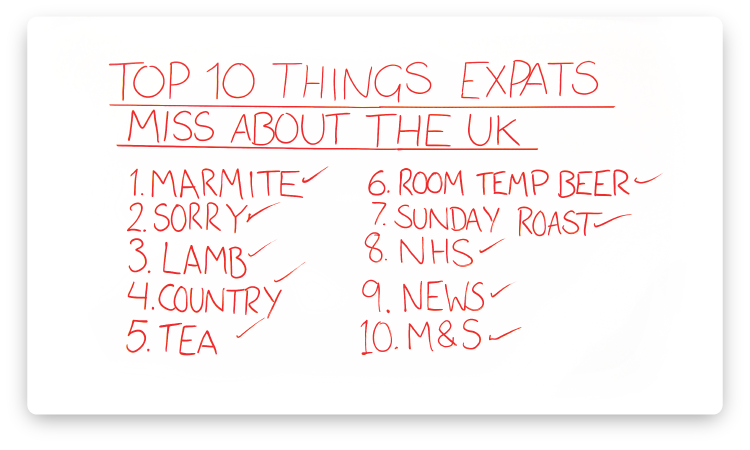 Marmite
Who'd have thought, eh? A pot of gloopy brown stuff turns out to be in the top most missed foods. No one really knows why the yeasty paste that half the nation hate has statistically made it here, but we do know that it can be found down baking aisles in some supermarkets abroad, so do not despair if you travel overseas and think you will be separated for evermore.
People saying sorry when it's not their fault
Statistics show that the English are the most apologetic nation, and that includes someone brushing past you on a commuter train and you making a genuine apology for being invisible. Not only do foreigners lack this attribute, but they seem to lack knowledge of the existence of the word 'sorry' full stop.
Lamb
Perhaps more common in England where countryside is present and available for sheep to roam freely as opposed to New York or Stockholm where they may not be as accustomed to city streets. A healthy and delicious meat; lamb is almost a delicacy, particularly in Britain so make the most of it! Venture to Japan and be prepared for horse and cat tongue…
Winding country roads
A perfectly acceptable reason for being late for appointments and getting lost in the UK. When you are residing in USA, a nation built upon a grid system, not to mention driving primarily in automatic, travelling is pretty dull, no hills, no fills, no turns, no concerns. Driving and walking become the epitome of monotony.
Tea
The likes of of Lipton cannot replace PG Tips Breakfast Tea and Twinings Earl Grey. We like our cuppas typically British, ideally served up in Cath Kidston mugs. Quite unthinkable anywhere else in the world and so tea is unfortunately something we must love and leave behind.
Room Temperature Beer
Not just beer, 'room temperature' beer. Across the globe, bars and pubs will serve you up fancy beers in flashy bottles but at sub zero temperatures, quite frankly unacceptable and most certainly undrinkable. Days of sitting in the Nag's Head, Cornish bartenders pulling pints of warm Ale are long gone, meet your new pal, Budweiser.
Sunday Roasts
Bring back the sprouts we hear you say! An astonishing 92% of expats would rather eat Brussells Sprouts with their roast every sunday for the rest of their lives than spend the rest of their expat years without a Sunday Roast. We don't blame them, the comfort of a roast dinner is second to none.
National Health Service
We may do nothing but complain about the NHS in the UK, but leave the country and you'll soon be crawling back for an excellent health service system. Knowingly pulling money out of your pocket for healthcare insurance is a killer; particularly when you recall a healthcare system that is virtually free in the UK.
Balanced News Coverage
Tune in to an American TV channel and you will soon be brainwashed in to supporting the favoured political views of that station. What happened to the News when it was just 'news' and not biased broadcasting, propaganda inflicted upon us innocent viewers and newspaper readers. No wonder so many expats miss the impartial British News.
M & S Underwear
Quite right. Marks' underwear is unparalleled and beyond compare to cheap polyester infused lingerie widely available across the globe. The thermal pants and cotton brassieres we cherish in chilly English weather are actually the ultimate comfort item. If you're in the UK, head to M&S, stock up on your thermals and never be without them again.
So we hope you have enjoyed today's episode of MyCurrencyTransferTV and got you feeling at least a little bit patriotic about this small but great country we live in! Don't forget to follow us on Twitter @MyCurrencyTrans! Thank you for watching and goodbye!
Written by Sofia Kluge on Google+
Featured image by Caroline on flickr