The value of a company retreat: Case Study of MyCurrencyTransfer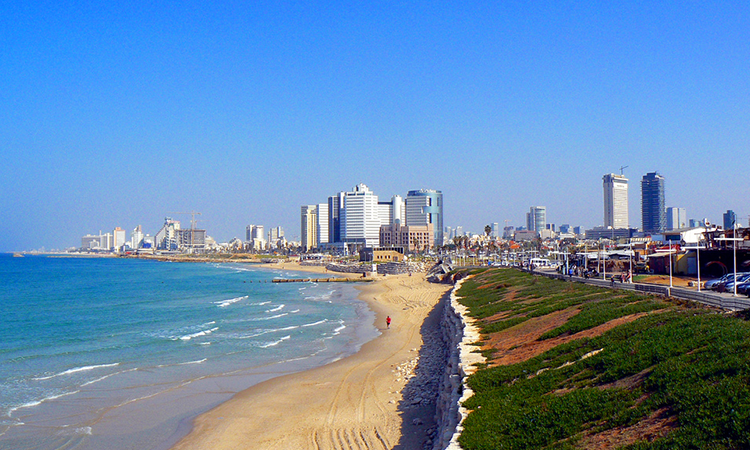 How often does your company take a step back from everyday working life? Different working environments can maximise productivity and bring a whole new dimension to the way a company operates. The removal of a company from mundane distractions for a length of time can optimise strategies and crucial developments, bringing invaluable ideas and experiences to a corporate retreat.
Why we planned a company retreat
As a company, we are very proud to say that 2013 was a truly brilliant and successful year for MyCurrencyTransfer. Not only did we move offices to the heart of London but we also opened an office in start-up capital, Tel Aviv, Israel. Did you know, Israel has more startups per capita than anywhere else in the world!
And what would a great location be without a great team? That's why we took on our lovely local Partnerships Executive, Aviva, and savvy Marketing man, Or. Of course, if you add two on one side, you just have to balance it out; and with that came Sofia and Chris, our Web Editor and Developer. Voilà, we had ourselves an energetic and dedicated team to the cause! But we had one slight problem. Parts of the team only knew each other via Skype…and that's when the Wi-Fi wasn't playing up!
So our Co-Founders, Dan and Stevan, thought, why don't we all spend some time together in one place:  a company retreat! After some considerable time debating the ideal retreat destination, we came to a rather reasonable conclusion. Why bring a whole team to sub-zero England when you can bring them to sunny Tel Aviv. Before we knew it, we had booked our 4-day retreat to Tel Aviv, with a nice 3 day round off in Eilat as a celebration of our hard work and dedication!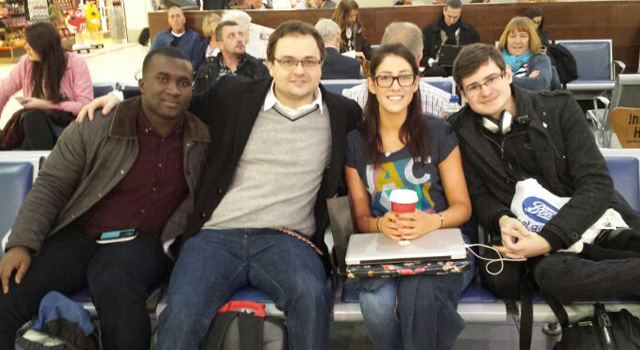 Eagerly awaiting their flight to be called; Chris, Stevan, Sofia and Phil in the departures lounge.
What we did
More than we ever thought possible! On the retreat, we realised that our company really does play true to the motto: 'Work hard, play hard'. Whether it was the rooftop BBQ in full swing as we arrived at our apartment in Tel Aviv, or the back-to-back meetings throughout the week, we sure made our time together as productive and proactive as possible. For us Londoners, time spent in the Tel Aviv office staring out at the hot sun took some getting used to, but with meetings, presentations and brainstorms to break up our time, we were happy to turn our backs to the sun and get down to business in the boardroom.
The group meetings we had during our time in Tel Aviv were invaluable to how we continued to manage our projects and tasks. Not only were we able to brainstorm more efficient and productive strategies, but we also planned ahead and discussed how we could be our very best in 2014.
"The one-off strategy sessions were brilliant. It gave us a unique opportunity to get out of the day-to-day mind-set and think about the business in a much more creative and long-term manner. It also gave us a great opportunity to celebrate success and share ways that we could improve on certain processes." – Dan Abrahams, Co-Founder of MyCurrencyTransfer
What's a company retreat without fun-filled evenings? Let's just say, we consumed our fair share of hummus, pitta and Israeli ice cream. Of course, we also sampled the local Israeli nightlife.
After a rather intense 4 days in the office, we packed our suitcases once more, sadly leaving a rather ill Aviva behind, and set off in search for more sun in Eilat, a popular holiday resort at the north tip of the Red Sea. Despite a mutual want to relax and unwind, the fun and games didn't cease to end. After 11 games of Pool, 3 BBQ's and too many pints later, we reluctantly and quite suddenly found ourselves back on the airplane heading back to England.
"The change of scenery in Eilat afterwards was a lot of fun, and we all managed to switch to a daily beach, barbecue and pool routine rather swiftly!" – Stevan Litobac, Co-Founder of MyCurrencyTransfer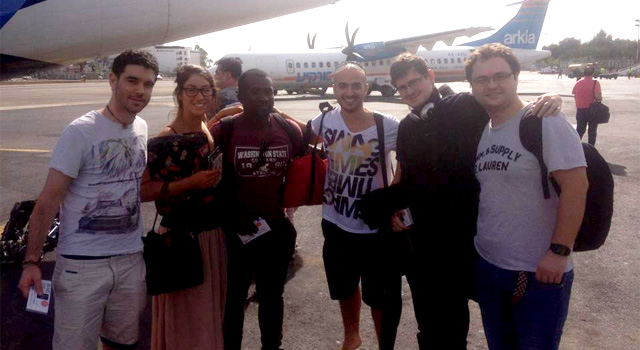 Barely able to contain their excitement on arrival in Eilat; Or, Sofia, Chris, Dan, Phil and Stevan fresh off the plane.
What we got out of the retreat
Our trip to Israel was without a doubt an invaluable insight into the roles involved in the company and individual parts we play as members of the business. Each employee brings their own unique expertise to the business and the opportunity to sit down, share and develop ideas and thoughts together as a group just adds a whole new dimension to a working system. Of course, our evenings together with friends and fellow Tel Avivians were thoroughly enjoyable and we were touched by how welcoming and hospitable Israel was as a whole.
"It's great to spend time in the office, but of course it's also fun to get together and socialise. That is the right way to build a united group for your team." – Or Hillel, Inbound Marketing Manager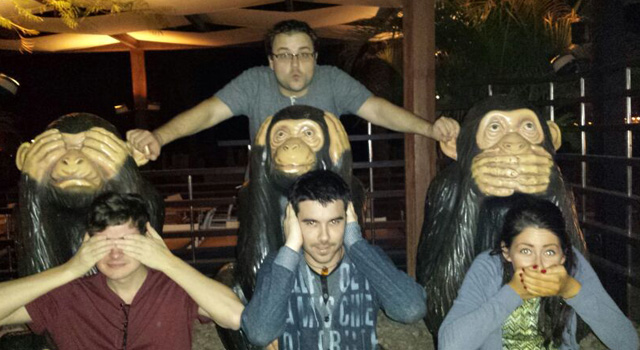 And then there were four; Phil, Or, Sofia and Stevan re-enact the three monkeys.
The value of a company retreat
When planned correctly, company retreats become invaluable and a fabulous chance to improve business ethics and company culture.
1. Build morale within the company
Not that we occasionally lose morale, but just like going on holiday, a retreat allows employees to renew their excitement and enthusiasm for a business. Not only did Tel Aviv provide us with a healthy dose of Vitamin-D, but we are all true believers in our company mission and this was the perfect destination to recharge those inner batteries.
2. Forges bonds between employees
Building connections and relationships in the workplace is something everyone strives for but the working environment can often make this quite challenging. When spending time together on a corporate retreat, employees will undertake activities as a group, meaning they will work through solutions and implement when they come back to work. Shared experiences are often the key to building good relationships at work and will develop a personal attachment to the company.
3. Disconnect from devices
When was the last time you took a day off from staring at a screen? Connecting as humans is invaluable, particularly on a company retreat when you can really get to know those people you usually only communicate with via email and Skype. Use this time to close that laptop, build personal connections and get to know the people behind the jobs.
4. Provides valuable training
Any team of employees will run more efficiently and without the need for supervision when given the right training. Company retreats can develop creativity, teamwork, ideas and a number of other skills that result in increased productivity.
5. Manage energy rather than time
When going on a longer trip that requires regular work, a change of scenery and increased time spent with colleagues can detract from usual levels of productivity. The key to making a retreat successful is to abide by a strict itinerary, including strategy sessions, group meals and fun activities. This gives time for people to relax and become acquainted with their new surroundings while remaining just as productive.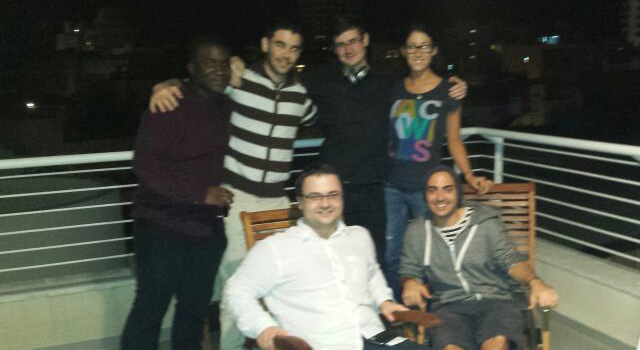 One big family; Chris, Or, Phil, Sofia, Dan and Stevan unwind on the rooftop of their Tel Aviv apartment.
How the retreat helped MyCurrencyTransfer
As a whole, the entire company reflects on the retreat as one of the most invaluable experiences working life has ever brought them. The experiences we shared were priceless and will never be forgotten. As Sofia repeatedly stated, "it feels like we're one big family!"
Where to go and stay on a company retreat
Whether you'd prefer a luxury cottage in Cornwall for your small team or something as far flown as a penthouse suite in New York, there are many venues that will host your retreat for you. To get started, we've pinned down 5 of the top locations and hosts that we personally recommend for a company retreat. Here are some of my top tips:
1. The Retreat Company are a leading resource and directory of retreats, providing all you need to take some time out of your busy schedule at work.From holiday cottages to spa getaways, The Retreat Company have it covered.
2. Sladen Lodge understand off-site objectives and believe the key is to really get to know and understand your colleagues. That's why Sladen Lodge offers a relaxed and atmosphere in their luxury lodge in the Peak District.
3. Bluefields Bay is that one place that offers a perfect, all-inclusive and picturesque location to hold your next corporate retreat. Bluefields Bay understand what it takes to organise a successful corporate retreat, and ensure a package that allows you to focus your full attention on the business at hand in sunny Jamaica.
4. The Lodge on Loch Goil offers seclusion, peace and complete privacy so that you can really unwind. Based in the heart of Scotland, the lodge is perfect for smaller teams who like to indulge in highland breakfast and afternoon tea all within 5* accommodation.
5. Brompton Lakes is the perfect location for a corporate retreat offering superior meeting and residential facilities for team building or relaxing in the beautiful setting of the Yorkshire Dales. Specialising in retreats, Brompton Lakes will make sure all amenities and requirements are catered for.
Written by Sofia Kluge on Google+
Has your company put together a corporate retreat? I'd love to hear your thoughts, ideas & experiences. Feel free to comment below or tweet us @currencytransfr