Where are the best places to go during ski season?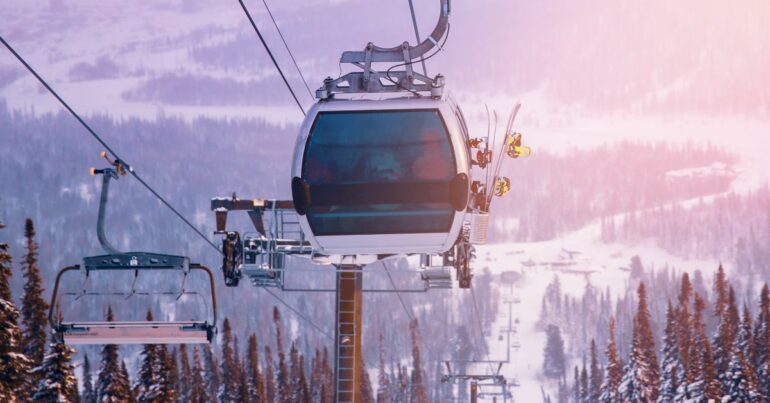 For skiers, the best time to go skiing is usually between December and April, but depending on where you go, it could still be ski season somewhere in the world.
Planning holidays is fun and, to help you plan your winter skiing holiday, we've put together this guide to the best places to go for ski season.
The 2 major skiing destinations in the world are Europe and North America. Europe, first of all, is where skiing holidays started and probably has the most to offer. There's a huge amount of choice, the skiing is as good as it gets, and ski resorts cater to every type of person. However, the USA and Canada are also really good. They offer some big ski resorts, they cater to all budgets and there's heaps to do besides skiing.
Everyone knows about skiing in Europe and North America and, for most people, it's just a case of deciding where to go in one of those places. However, there are other places as well. Japan, for example, offers some good skiing and is a destination that people might want to try.
Read on to find out about ski season destinations all over the world.
Europe
There are almost 4000 ski resorts in Europe, and European skiing caters to every type of skier. Beginners, families, experienced skiers or even professionals can all find the slopes that match their skills. Every type of budget is catered for, as well. There are some of the cheapest resorts in the world as well as resorts with Michelin starred restaurants and luxurious hotels.
Here are the major destinations in Europe.
The Three Valleys, France
Home to Courchevel, Val Thorens, Meribel and another five lesser-known resorts, France's Les Trois Vallées is the largest ski area in the world.
Located in south-eastern France, the Three Valleys caters to all budgets, suits all abilities and is cheap to fly to from most of Europe. There are 370 miles of ski runs in the Three Valleys. Just over 50% are ranked as beginner or easy level, and the rest will suit intermediate and experienced skiers. The skiing in the Three Valleys is simply world class, there's heaps to do besides skiing and every skier should go there at some point. The whole area can also be explored with a ski pass, giving you lots of options to customise your holiday. The cost will vary depending on the length of your stay, if you're going solo or with your family, and you can also benefit from special prices if you're going at the end of the ski season.
For high-end hotels and restaurants, spectacular views of Mont Blanc as well as some amazing off-piste descents, head to Courchevel. The other resorts also offer luxury and amazing skiing, but they provide more mid-range and budget packages as well.
Borovetz, Bulgaria
Borovetz in Bulgaria is a good budget option. Featuring 36 miles of beginner and intermediate runs, Borovetz caters for most skiers. There are also plenty of pubs, bars and restaurants, and accommodation is available for around €300 per week. All this comes with a great location beneath the 2560 metre tall Mount Musala.
Other budget options are:
Sauze d'Oulx, Italy
Vogel, Slovenia
Livigno, Italy
Les Houches, France
Kitzbuhel, Austria
Kitzbuhel is a famous ski resort in Austria, and it stands out as a picturesque and relaxing ski season destination.
With medieval architecture, cobble streets and beautiful winter scenery, Kitzbuhel is one of the most charming places in the world to go skiing. Its fire warmed bars, great accommodation and great restaurants make for a very comfortable stay. On top of this, the skiing at Kitzbuhel is also great. While there are fewer runs than at places like the Three Valleys, there are still plenty and there are runs for all abilities.
St Moritz, Switzerland
St Moritz might be the most luxurious ski resort in the world. Home of the Cresta Run, St Moritz features a wide range of winter sporting activities and not just skiing. As far as skiing is concerned, however, there are 218 miles of high-altitude ski runs that cater to a wide range of abilities.
The high altitude is part of what makes St Moritz so good because it improves the quality of the snow and extends the skiing season.
All this is with a back-drop of fine dining, luxury hotels and private members clubs as well as a long history of aristocratic holidaying.
While St Moritz is the most well-known luxury skiing destination, there are plenty more. Two other well known luxury ski resorts are:
Verbier, Switzerland
Chamonix, France
The USA and Canada
Outside of Europe, the obvious place to go is North America. Both countries offer a wide range of options, although Canada probably takes the lead with larger ski resorts, more varied skiing and spectacular scenery.
Whistler, Canada
There's a reason most people have heard of Whistler in Canada, and that's because it's one of the best places in the world to go skiing.
Whistler is a vast resort area dedicated to skiing. The ski season runs slightly longer than in Europe, ending in late May, and there is a huge variety of skiing to be had. From family and beginner slopes, to intermediate slopes or even high adrenaline, advanced slopes, there's something for everyone. At Whistler, there are 200 runs spread over an area of 8,172 km2, meaning that you'll never get bored of the skiing.
All this comes with a big and vibrant skiing community and plenty to do besides skiing. Whistler, while it caters more for people who have money to spend, does have budget options. There's something for everyone.
Banff, Canada
Banff is the rival to Whistler in Canada.
While Whistler is an entirely ski dedicated area, Banff is a town in itself as well as a ski location. This makes for a more varied scene to what you'll find at Whistler. On top of this, the town of Banff is also connected to the scenic village of Lake Louise and the entire area is a UNESCO world heritage site. Banff is an incredibly picturesque place for any holiday, let alone a skiing holiday.
While the skiing might not be as plentiful and easy to access as at Whistler, it is still world class. There are actually more runs at Banff (274 in total), and the skiing covers an area of 7,748 km2. The disadvantages are that accessing the slopes takes longer in the morning, there's less of a total vertical drop in the skiing and there's slightly less variety.
Aspen, USA
Colorado boasts two of the USA's most luxurious ski resorts, being host to both Aspen and Vail ski resorts.
Aspen is the best known of the two. Skiing at Aspen takes place to a backdrop of luxury hotels, world class restaurants and great natural scenery. When it comes to the skiing, it's easily accessible with a shuttle system connecting the 300 runs that exist over four areas at Aspen. There's a wide variety of run types and there's something for everyone.
As great as Aspen is, it's a seriously high end and is only for people who can afford the high prices. Famous for attracting celebrities to its slopes, Aspen is home to 'Billionaire Mountain', where real estate can cost up to $50 bn.
Breckenridge, USA
Also located in Colorado, Breckenridge is more mid-range and is generally more popular than Vail and Aspen. There are options for everyone, with budget choices, mid-range choices and luxury choices as well. For this reason, it's popular and it can get busy at times.
As far as the skiing goes, it's good and there's something for everyone. There are 187 trails spread over an area of nearly 3000 acres, and the top of the ski area is accessed by North America's highest ski lift. Outside of skiing, Breckenridge is a good place for shopping and eating as well as doing other activities like ice skating or dog sledding.
The Rest of the World
What about the rest of the world?
The Southern Hemisphere
There is skiing to be had in the Southern Hemisphere. The ski season also happens during the Northern Hemisphere's off season, meaning that it's possible for people from the Northern Hemisphere to have summer skiing.
We won't go into much detail here, but the majority of skiing in the Southern Hemisphere is in New Zealand and Australia (in the Snowy Mountains), as well as in South America. There is also the possibility to ski in South Africa.
Japan
Finally, Japan is an interesting skiing destination. The country has grown in popularity for tourism recently, and people are very positive about the cuisine, culture and scenery of Japan. Why not throw some skiing in with a trip to this fascinating country?
The most well-known ski location in Japan is at Niseko, on the northern island of Hokkaido. The skiing takes place across four resorts called Niseko Village, Grand Hirafu, Hanazono, and An'nupuri.
The quality of skiing at these resorts is good, and there's a lot of variety as well. Situated on a near perfectly cone shaped mountain, the skiing is a mixture of managed trails, off-piste alpine skiing and tree skiing. There's something for beginners and experienced skiers alike, and there are also some unusual features like natural halfpipes and steep chutes.
Before you go
Thanks for reading this article. Hopefully, we've helped you plan your ski season break. Don't forget that while you're away you can find the best deals for your international payments by comparing providers on MyCurrencyTransfer.