5 Tech Game Changers Disrupting Foreign Exchange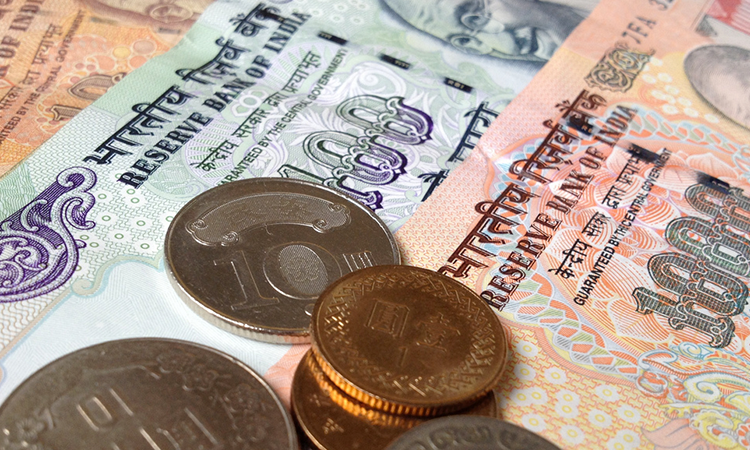 Good afternoon everyone and welcome to another edition of MyCurrencyTransfer TV. In today's special episode, we're going to take a look at 5 gamechangers, who are building high growth and super disruptive technology businesses in the international payment space.



What do they all have in common? Well, they use technology to simplify a tired, opaque and inefficient international payment process, dominated by high bank margins and hidden fees. Some use a peer to peer model, matching sellers and buyers of currency together via a tech driven platform. This helps individuals and businesses sending money abroad to bypass the banks and score a fantastic international money transfer deal.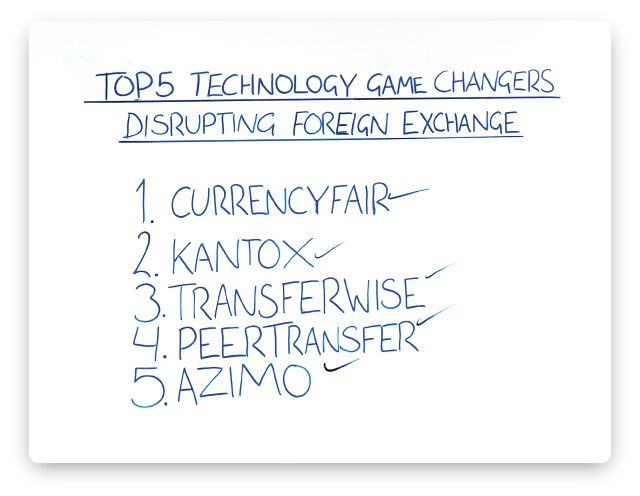 So, let's look at the gamechangers and traction they've seen:
CurrencyFair claim they can save customers up to 90% on your international transfer fees. The peer to peer currency marketplace cleverly allows users to get very close to the interbank rate, and in some instances they claim to match at BETTER than the market rate. In fact, July of last year 600 users beat the interbank exchange rate! The company is investment backed by Frontline Ventures & Enterprise Ireland. CurrencyFair stands as a perfect platform for expats, overseas property owners, small businesses and professionals moving money around the world.
Interesting fact? They just released a very weird and wonderful ad featuring Rugby player Sebastien Chabal.
With Headquarters in London and offices in Barcelona, Kantox use a peer-to-peer model to disrupt business foreign exchange. Businesses pay a small annual fee to access the platform and pricing varies depending on trading volumes of it's clients. Transaction Fees can range from 0.09% to 0.29% of the amount traded. Compared to typical bank fees of up to 2.5% away from the market rate, businesses can expect significant savings.
We love the Kantox marketplace as it includes total price transparency, clearly displayed the market rate and sell rate side by side. It's a brave move for sure but shows confident that their exchange rates are amongst the most competitive in the business foreign exchange landscape.
On to Transferwise. The platform is widely regarded by customers as being a simple, fast and delightful user experience. It's a wonderful front end the Estonian and London based startup has put together! At the time of writing, out of 3053 reviews on TrustPilot, the company scores a 9.7 out of 10 satisfaction rating. With Transferwise, you can send £200 for as little as a £1 fee! This is a 10 times plus saving versus bank fees and hidden charges.
You can trade up to £1 million pounds online. Rather than hiding 'fees' within the exchange rate, Transferwise cleverly 'flip' traditional FX pricing models. They offer the 'interbank' rate and simply add just under a 0.5% markup. So on a £100,000 GBP to EUR payment, you will be given the market rate, with Transferwise applying a £497.50 fee. We like this as it makes the cost of your international payments clearly visible.
Cool fact: One of the businesses co-founders Taavet was first employee at Skype!
Penultimately, let's look at PeerTransfer. The company has raised over a whooping $20 million dollars worth of Venture Capital backing. The startup works with educational institutions across the world and provides students with a simple payment solution for tuition fees and college payments. International students lose over $1billion each year through poor rates of exchange and hidden banking fees.
This is where PeerTransfer step in, bundling transactions to secure higher volume purchases. Financial institutions can be pretty flakey and opaque when handling customer service. PeerTransfer offer round the clock, 24 / 7 support via phone, email and even Skype.
Founded in 2011 by our old friends from TechHub, Azimo's social money transfer platform have acted quickly to secure major global coverage. It's service allows users to send money to over 195 countries. Customers can send money directly to a bank account, top up a mobile or collection at up to over 150,000 payout depots across the world.
Their coverage is more than extensive and can lay claim to being the first money transfer company that lets you move money abroad with the help Facebook! This is a remittance exclusive. The minimum transfer size is a minimal £50. Fees built in the exchange rate are between 1-2%, which is extremely competitive for lower value remittance payments.
We love the fact that Azimo gives it's users the ability to donate a portion of their international payment to charities working in developing countries.
So there you have it! The 5 gamechangers helping to disrupt the foreign exchange landscape.
We really hope you enjoyed today's episode of MyCurrencyTransfer TV. If you have any questions, please don't hesitate to get in touch with us directly. Our twitter handle is @mycurrencytrans