Bienvenidos Bale. £6,042,000 Euro Millions Win For Tottenham Hotspur Chairman Daniel Levy!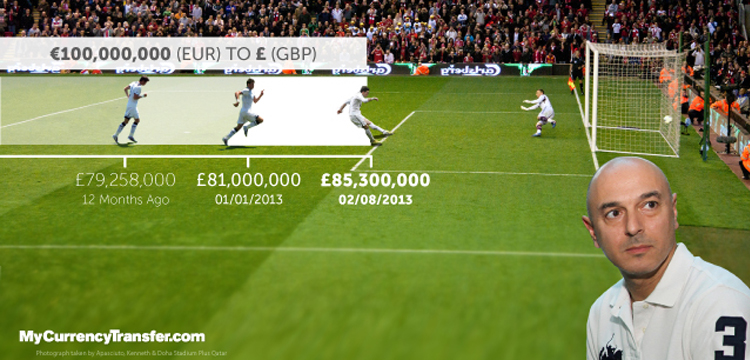 Everyone seems happy. Gareth Bale has got the transfer he has 'dreamed' of. The new Real Madrid superstar kisses the badge on day one & signs for the club he 'dreamed of playing for as a child.' Surprise surprise.
However, even happier is Tottenham Hotspur Chairman Daniel Levy – a very shrewd operator who has timed the transfer deadline signing exactly right!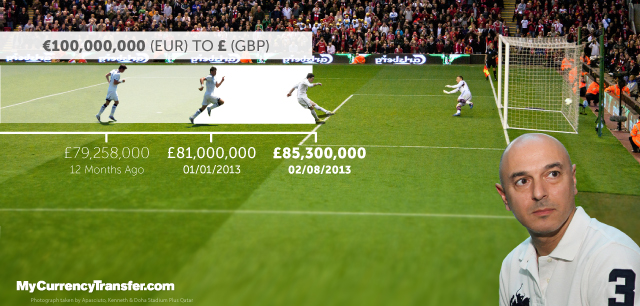 Like this? Share on your site or blog
As our friends at World First point out – Mr. Levy is so smart, he has saved Tottenham Hotspur a small fortune by selling star midfielder Gareth Bale at exactly the right time.
So, lets break down the maths. What was 100,000,000 Euros worth over the last 12 months:
| | | |
| --- | --- | --- |
| 02/08/2013 | 100 MILLION EUROS | £85,300,000 |
| 01/01/2013 | 100 MILLION EUROS | £81,000,000 |
| 12 Months Ago | 100 MILLION EUROS | £79,258,000 |
Daniel Abrahams, Co-Founder of MyCurrencyTransfer.com says:
Whatever your reason for sending money abroad, fluctuating exchange rates can heavily impact the value of your foreign currency transfers.
It's worthwhile to have a foreign exchange broker on your side, who can help maximise the value of your foreign exchange transfers. As we saw, Mr Levy is approximately £6,042,000 better off selling Bale now versus one year ago. When making a large money transfer, it pays to speak to a foreign exchange specialist who can work with you to devise a currency strategy best suited to your individual or business foreign exchange requirements.
Feel free to compare foreign exchange companies today.
Sofia Kluge on Google +