CompareMoneyTransfer Review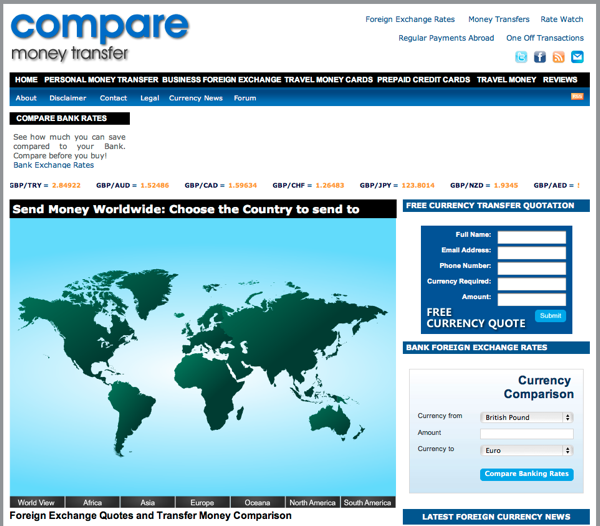 CompareMoneyTransfer are one of the leading websites geared towards finding individuals and business customers the fairest deal on currency. Over the past few years, the owners at both MyCurrencyTransfer.com and CompareMoneyTransfer have collaborated in discussing and identifying ways to further consumer interest in beating poor bank exchange rates. Always with one eye on 'cleaning up the industry' Raff Marday (owner) has been a credit to the international money transfer space and, whilst competitors, we are only too happy to conduct a review of the site.
The site is packed with highly useful information, all of which is designed to make clear the difference between foreign exchange specialists and the services of high street banks. Detailed content is certainly CompareMoneyTransfer's strong point and the site certainly helps the average customer navigate through the complexities that exist when making an international payment. CompareMoneyTransfer also include very useful daily market commentary and have a thorough review section of the site, where they showcase the different services offered by foreign exchange specialists across the board. For a business client that is transferring money overseas, the site is particularly useful given the dedicated section revolving around business payments.  The management at MyCurrencyTransfer.com admire the way that the site only works with FSA authorised and regulated currency specialist's, sharing the same values in being only prepared to work with foreign exchange brokers that truly safeguards client's funds in an appropriate manner.
CompareMoneyTransfer are also very adept at uncovering new stories that emerge within the currency transfer industry. Whether it is a takeover in this space or uncovering the unfortunate Crown Currency episode , Raff Marday is at the forefront of developments given his wide array of contacts and extensive network within the industry.
It is sometimes important to recognise that whilst you may have competitors, there is more value in discussing common ground and ways to solve issues so that by working on projects together, customers are afforded the best value deals on their international payments. MyCurrencyTransfer.com is delighted to endorse the work of CompareMoneyTransfer.com and long may this continue
The management team at MyCurrencyTransfer.com