Is my foreign exchange company safe and secure?
Sending money abroad isn't always easy, particularly when it comes to your funds' safety and security. However by being cautious and careful with choosing your broker you shouldn't have a problem. Today we are going to go through some of the questions and points you should check with your broker to ensure that they are legal, reliable and secure.


Hey everyone and welcome to another edition of MyCurrencyTransferTV. In today's episode, we're going to discuss how to choose the most reputable and best foreign exchange company. In particular, we're going to look at safety of security of funds, so that you have maximum peace of mind when transferring money through a non-bank foreign exchange specialist.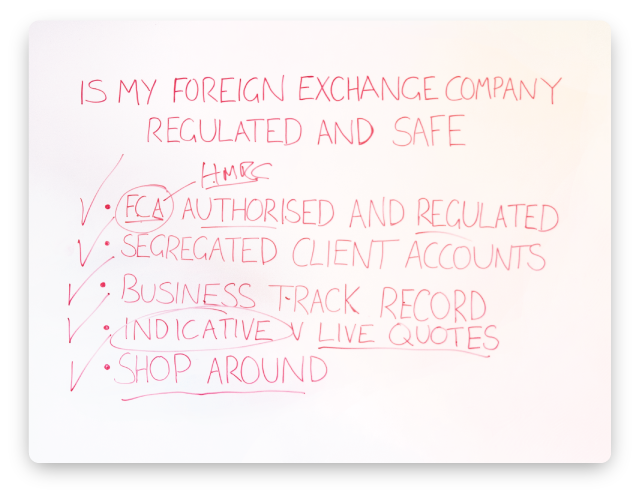 Before we go deep into the types of questions you should ask your broker, let's take a step back. Your two main options are the bank vs. currency broker. Without doubt, using a reputable currency broker works out overall cheapest compared to the banks. Banks apply huge markups to the real exchange rate, and tend to offer a largely impersonal service. Savings with specialist foreign exchange brokers can run into the thousands. The purpose of this video is to ensure you transact with a safe, reputable and reliable partner.
So, without further ado, let's look at the top 5 things to look for when selecting a foreign exchange broker.
Is the foreign exchange company FCA authorised and regulated, and registered with HMRC?
Being an authorised and regulated money service business means the company has demonstrated it has robust operational procedures to protect client funds, it has required levels of capital to operate safely and been scrutinised by the national regulators. Money service businesses also need to be registered with HMRC. Companies need to apply for a 'fit and proper test' to ensure company directors meet the requirements for Anti-Money laundering regulations. Be aware, it's now the FCA (Financial Conduct Authority) rather than the FSA (Financial Service Authority) that regulate currency brokers.
Secondly, ask, do you operate Segregated Client Accounts?
Segregated client accounts are separate from the day to day running of the business. This ensures your money is ring fenced and protected in case a company runs into operational difficulty. The Payment Service Regulations 2009 explicitly state that all money held in segregated client accounts are not able to be claimed by creditors. Once again, you can have peace of mind that funds are independent from the business accounts.
Thirdly, what is the currency companies business Track Record?
You should absolutely be asking questions like: how long have you been in business? Where are you located? How much currency turnover do you do each year? There are many, fantastically reliable currency specialists who have been in business for years, and transact in the billions each year. For safety and security of funds, we recommend only transacting with companies that have a minimum three to five year track record of being in business.
Dismiss Indicative Quotes Versus Live Tradable Quote.
Be VERY careful of a currency broker who offers you an indicative exchange rate quote before you register. For KYC (know your customer) and anti-money laundering, all private and corporate clients are required to open an account with foreign exchange companies. Some of the more opaque brokers may quote you the mid-market or interbank rate to draw you in, only to find poor rates when it comes to booking a trade. Dismiss these indicative quotes and home in more on questions related to track record and FCA Regulation and Authorisation.
Shop around / Ask Friends & Family For Recommendation
Finally, nothing beats good old-fashioned shopping around. When buying a sofa, you wouldn't necessarily go to the first store. Likewise, when buying currency, it pays to shop around.  Don't settle for the first deal you stumble across. Speak to friends and family, use currency comparison sites, read reviews and ask lots of questions.
Good luck! If you have any questions, don't hesitate to reach out to us on twitter with the @currencytransfr handle!
Written by Sofia Kluge on Google+