How to transfer money to USA
Whether you are buying a holiday home near Disneyland, Florida or planning on studying in Connecticut, you will most likely need to transfer money to the USA for one reason or another. We have put together this helpful video to guide you through some of the best options and methods.


Hello there and welcome to another episode of MyCurrencyTransferTV.
Today I am going to talk about transferring money to USA. There may be a number of reasons you need to transfer money to America. Perhaps you are buying a holiday home near Disneyland in Florida, making maintenance payments or maybe you are undertaking a work relocation and need to arrange an international money transfer before you emigrate. Whatever the reason for your need to transfer money, there a number of things that are useful and good to know.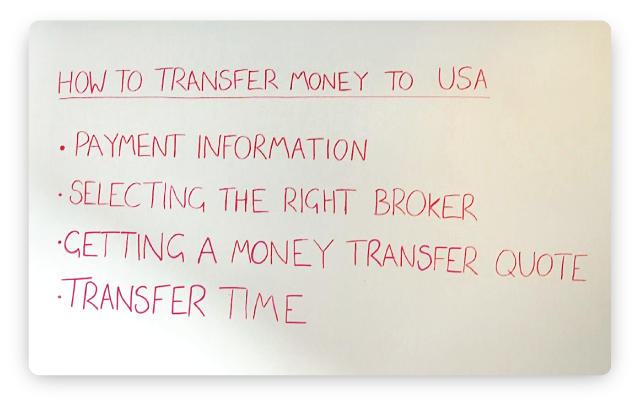 Ok, what payment information do I need to send money to the USA?
Here are the 4 main beneficiary details:
Beneficiary Name
Account Number
Swift Code
Bank Name
Once you have these 4 bits of information, you are ready to transfer your money.
Now, let's figure out what the best way is to send money to the USA.
The main option is bank versus non-bank foreign exchange specialist. Most of you probably think, right I'll head over to my bank then, quick, simple, cheap. Banks are great for moving money within the country but as they are not international money transfer specialists, they will tend to add mark-ups of up to 5% on the value of the transaction. Non-bank foreign exchange specialists, on the other hand will apply much tighter markups. In real money terms, say if you were buying a property in America, that would be a saving of around £3000 – £5000 on every £100,000 you send abroad.
So how do I select the right currency broker?
There are a number of websites which allow you to compare FCA regulated brokers so you can find the best deal on your transfer to USA. Many of these will let you price compare to ensure that you get the best rates and deals. Don't settle for the first deal you stumble across, shop around for a better deal and get multiple quotes. It is good practise to read up on some reviews on individual brokers, to ensure that they are reliable, trustworthy and of course cheap. Ask for personal recommendations and check their regulatory credentials. Giving them a call doesn't hurt either to find out if they are authorised and regulated by the FCA.
In fact, speaking to a currency specialist may be advisable if your transfer is not urgent and you have time to spare as they can actually advise you on a time when the rate might be better. As an individual or corporate client, your dedicated currency dealer can also watch the markets on your behalf and so provide a first class service tailored to your individual foreign exchange requirements, so it's good to establish a relationship with your broker. Consider forward contracts, stop loss & limit orders on high end amounts. These are great ways to maximise the value of your transfer.
Lets now discuss how to get a live money transfer quote.
First, you need to open an account with a currency broker. This is completely free with any currency specialist and you will not be obligated to trade once the account is open. This should take no more than 24 hours to set up and it is subject to KYC and compliance checks which usually only takes a few minutes for private clients. Watch out for brokers who offer you fantastic indicative rates, very close to the market read. This is a big 'steer clear' sign and usually a way to lure you in.
Finally, many of our visitors ask, how long it takes to send money to the USA?
When you transfer money to America with a simple spot transaction, you can be pretty sure that your money will be with the beneficiary within 24-48 hours. It is also good to be aware that on public holidays, this can delay payment.
Good luck and if you have any more questions, I'd be delighted to answer on Twitter. Follow @currencytransfr
I hope you have enjoyed this video, thank you for watching!
Written by Sofia Kluge on Google+