The pros and cons of hiring foreign employees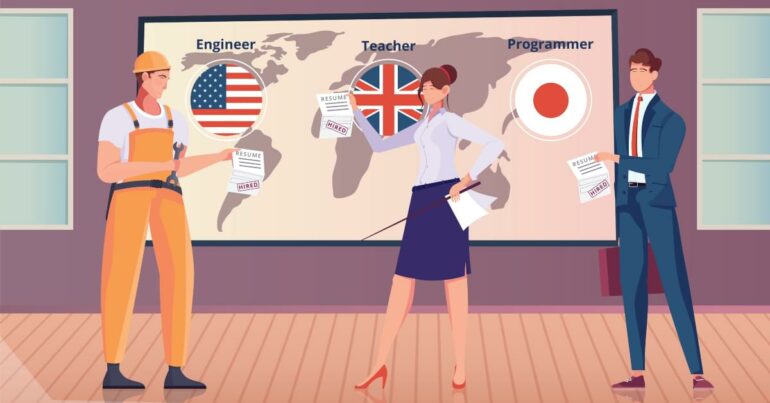 Businesses across the globe have become more comfortable with the idea of hiring from abroad. This is due, in part, to growing confidence in their ability to manage an international staff, as covid lockdown measures facilitated the use of remote working tools. 
Hiring abroad may be a roundabout approach to talent acquisition as opposed to hiring locally. But it can be well worth the effort, provided your business can overcome the many associated challenges.
Below, we've detailed some of the pros and cons of hiring abroad, so you can judge for yourself:
What are the pros of hiring abroad? 
At some point, businesses might consider hiring someone from outside their own country. This could be to exploit an advantageous situation or make up for a lack of local resources. Here are a few reasons why you might too: 
1. Hiring foreign workers gives access to a wider talent pool 
Remote working has removed geographic restrictions to hiring practices. Businesses can now access a global talent pool through international hires, engaging the best-possible staff to fill critical roles.
This is also important for companies in heavily populated areas who face stiff competition in the job market. Here, talented staff risk being head-hunted, while well-performing candidates are often inundated with job offers. 
Searching for potential hires abroad can provide interesting opportunities for recruiting managers. Some foreign job markets are highly specialised. For example, the Philippines, Singapore and Poland have booming IT sectors, making them great places to scout if you need tech-oriented hires.  
2. Diversification enhances innovation 
More diversity in the workplace can promote innovation by helping staff draw on various cultural backgrounds and worldviews to generate new ideas and solve problems.
Hiring a diverse, international staff can create an environment of learning. Simple observation and discussion can increase productivity as staff share experiences and viewpoints. 
Whether intentional or not, those businesses that maintain a diverse selection of staff are more likely to improve strategic approaches with emergent, out-of-the-box solutions.
3. Hiring international employees helps break into new markets faster 
Hiring international employees allows businesses to create hyper-focused teams in different countries to improve their local services. 
A team of carefully selected international hires can enable a company to venture into foreign markets faster and at less risk. For example, client-facing staff won't have to worry about language barriers between themselves and customers. In addition, local hires bring with them a wealth of information about domestic law, local bureaucracy, cultural practices and business practices. This can all help offset the risk of expanding your interests abroad. 
Additionally, hiring abroad is the best way to cover multiple time zones. For example, it could be impractical or impossible for your local staff to cater to foreign clients. In this case, a solution would be to hire staff whose regular working hours closely overlap with your target audience. 
4. Hiring abroad can lower operating costs
Hiring staff from countries with lower average wages or where foreign exchange rates work to your benefit is a great way to minimise operating costs.
Hiring a new in-house team to handle your foreign business interests also permits high levels of oversight and the ability to align your international operations with company policy, goals and guidelines. 
5. Lower overhead costs
Remote working opportunities can help reduce overhead costs by forgoing the need for an expensive office space.
If some employees conduct all work from abroad, meeting rooms and co-working spaces can be hired if and when they are needed. 
You could also choose to help your new staff set up a suitable work environment at home with office furniture and supplies. This one-off expense would be far less costly than renting a permanent office space. 
What are the cons of hiring abroad?
If you're considering hiring internationally, pay close attention to the difficulties you might encounter. You will need to feel comfortable with employees working remotely if you're not already offering this possibility to your local staff, and the impact on your company culture is not neglectable. Here are a few things to consider:
1. Local entity registration can be difficult 
A business must register as a local entity to hire staff in another country. The process brings certain challenges. It can be confusing to comply with local rules and regulations, especially if legal documentation is written in another language. It may be safer to hire a local recruiting firm to handle this. 
2. Foreign worker classifications are complex
Businesses will need to understand the local legal differences between employees and contractors. Each contract type will have different regulations and requirements regarding payment, sick leave, maximum work hours and benefits. 
Misclassification is a common cause of problems when hiring abroad. Again, organisations can mitigate some risks by hiring management services to ensure compliance. 
3. Onboarding and training are more difficult 
It's difficult for foreign workers to learn the 'ins and outs' of the company they work for when they're based hundreds or thousands of miles away from coworkers and managers. 
Implementing new technology can be costly and difficult. In some industries, remote work relies on the use of advanced file-sharing and communications technology. Training can also be a challenge for international hires, ensuring success requires a robust training and onboarding plan.   
4. Remote work relies heavily on technology  
It's important to be aware of the risks and dangers posed by remote work. Some countries might have poor internet connections or might not have the infrastructure required to facilitate remote work. The Philippines, for example, is notoriously susceptible to power outages during monsoon season. 
In addition, more office devices mean greater exposure to the risk of data breaches, information theft and loss of confidential information. More tech-savvy organisations enforce conditional access policies, password policies, multi-factor authentication, and remote device policies to protect their staff and their clients.
5. International payroll difficulties and compliance
Depending on where you source foreign employees from, payroll compliance may be more or less difficult. For example, France, Italy, Germany, Argentina and Japan are known to have some of the most complex payroll regulations in the world, while Canada is said to have the simplest.
Paying staff abroad will also expose your business to the risk of currency fluctuations. Understanding what affects currency exchange rates and how they impact the actual salary is essential.
Partnering with a global payroll services provider is one way to address this problem. This can be costly, but not as expensive as the fines you may face if you fail to meet compliance standards.  
Do the pros outweigh the cons?
Most business owners generally agree that the advantages of international hiring outweigh the disadvantages. Some who choose to do so often have no other alternative, given a lack of local resources. Others choose to do so because they're always looking for new, valuable additions to their staff, no matter where they live. 
You'll find that the opportunities afforded by foreign workers can help your business soar to new heights, provided you're willing to make the necessary investments.
Matthew Swaile
Copywriter