Meet Nicholas Lewandowski of Just Landed

It gives us great pleasure to introduce Nicholas Lewandowski of the websites Just Landed and Expat Wealth. Just Landed is a fantastic portal which helps connect expats worldwide. Whether you are making the transition for 'good' or simply an overseas assignment, the site can help you navigate the process and ensure you don't suffer the devastating effects culture shock. You should relish your time overseas and with Just Landed it makes the whole expatriation process that much easier.
What is your "expat" story?
I have lived in Germany, Spain and most recently Egypt, where I worked at a local investment bank. Here I got a firsthand lesson in dealing with local banks as an expat. Suffice it to say I have a newfound appreciation for the wisdom of international banking.
One of the great things about Just Landed as a service is that most staff have experience living and working abroad. Our founders and managing partners, Simon Lynch and Daniel Tschentscher, are from the UK and Germany, running a business in Spain. At every level people draw from their own personal experiences–including our interns!
What is your motivation for setting up Just Landed?
Just Landed was created back in 2003 as a resource for people moving country. It has since expanded well beyond simply providing country guides, however. A social community was launched in 2009, for example, and we continue to work hard to provide dynamic features that create that sense of community expats really value. We actually just launched a redesigned version of the Just Landed website, which features a more colorful brand and is optimized for viewing on mobile and tablet devices.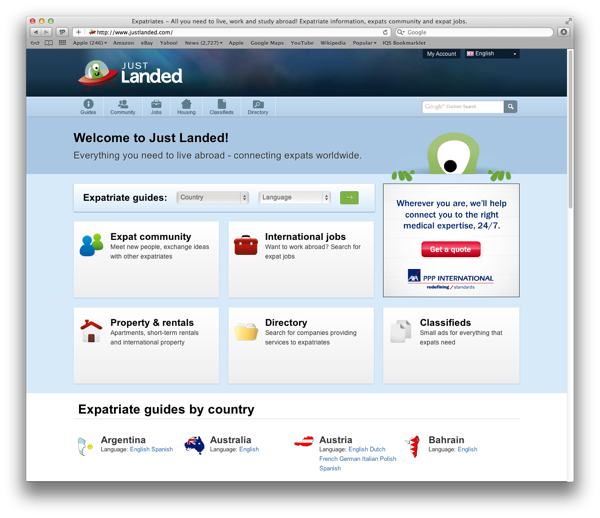 We've also launched a couple of blogs aimed at specific aspects of life abroad. One of these is Expat Wealth, which covers expat banking and investment. We've found the majority of the commentary out there is written by financial advisers, and we're keen to present information in a way individual expats may find more accessible.
Why is expat wealth management so critical?
Too many people view wealth management as a kind of optional pastime for the greedy. What it's really about is creating security for the future.
In fact it's pretty much impossible to overstate the importance of proper wealth management–particularly for professionals–given the fiscal challenges facing most developed countries. Pension systems are going to change, and the last thing any expat wants is to retire and then run out of money abroad. On top of this expats must manage additional challenges: currency risk and added tax complexities.
Many expats also find themselves on assignment in emerging markets, where the regulatory environment is murkier. The investment climate can change quickly in these countries… right now we're keeping an eye on Saudi Arabia, where the government is mulling limits on expat money transfers.
Top 3 tips for a newly-arrived expat…
Really the process should start well before arrival. I would say:
Research, research, research. These days there are so many resources available to expats online, from blogs like Expat Wealth to guides like the ones on Just Landed. You've also got very active expat communities across social media and forums. Get out there and ask questions about other expats' experiences with things like health insurance, banking, investing. Generally expats are quite open and helpful, so you are almost certain to get useful information.
Learn the local language (at least a little). You're not going to become fluent overnight, but locals will appreciate your effort. Language difficulties can make dealing with local banks extremely difficult–I found this out firsthand while living in Cairo–and every little bit helps.
Expect difficulties. There will probably be problems, either with your luggage, paperwork, visa… who knows what else. Learn some relaxation and stress management techniques, and make judicious use of them when queuing up at your local bank branch.
Top 3 financial mistakes expats make
Not saving enough. Many times people get very nice compensation packages and assume the company will always take care of everything, that they don't have to be on top of their personal finances. But there is really no room for financial complacency these days. All companies are looking to trim costs and assignments can end very suddenly.
Underestimating the cost of a move. Just like moving house, everything ends up being more expensive than you first assume. This is part of the reason research is so important. Build a cushion into your budget for the move–depending on the circumstances up to 20-25% may be appropriate.
Forgetting about currency! Living abroad I was always surprised by how little attention some expats paid to exchange rates and inflation. This is especially important for expats in emerging markets, who can really get clobbered, but it could soon be a factor in some European countries as well.