Interview with Expat Star Awards 2013 UAE Gold Winner
Welcome, Samantha, food and travel writer at foodiva.net, our Expat Star Awards 2013 Gold Winner. Comprising of food experiences and restaurant reviews in the UAE and on her travels, Samantha's blog is an exciting and quirky spot for all readers to enjoy and learn something new.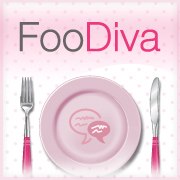 1. You say you have been passionate about food ever since you can remember, what is it that gives you that excitement and thrill of trying new food?
It's thanks to my parents' jobs in the hospitality industry and my upbringing in hotels around the world where we were constantly trying out new food experiences – lucky me! I went on to mark out a career in PR within the hospitality industry that allowed me to develop a good sense for what makes or breaks a dining experience. I have always searched out a good restaurant to the point that life for me would become meaningless without great food.
2. What inspired you to start a food blog?
As a result of a long time fascination with restaurant reviewing, a burgeoning dining scene in Dubai fuelled by a primarily expat population and a real gap here for an online resource dedicated to impartial restaurant reviews, I launched FooDiva, foodiva.net over two years ago. I pay my own way and refuse freebies in exchange for reviews. I now hope to have narrowed that gap!
3. Aside from the food and beverages, what 'makes' a dining experience for you?
I'm glad you posed this question as a dining experience is not just about food – service, atmosphere, location, interior design and value for money are all crucially important to a successful restaurant experience.
4. What is your next travel destination and what food do you hope to try there?
I've just returned from Vietnam so still on a holiday high, but I'll be heading home to Cyprus for the Eid break next week where I'll be gorging over souvlaki (succulent pork kebab in pitta) and mezze feasts. I also hope to get to the Maldives later this year where I want to stay at the Conrad so I can eat seafood in the undersea restaurant!
5. You must be an expert chef, do you ever cook yourself?
My job and passion means I eat out a lot but I try to cook at home a couple of times a week. I love collecting cookbooks and am a sucker for trying out new recipes. My home cooking tends to be reasonably healthy and carb-free. Thanks to recent travels, I've fallen in love with Moroccan and Vietnamese cuisine so am now eating my way through some traditional recipes.
6. What is your worst food experience?
A seafood restaurant in Dubai where the food was practically thrown at us, overcooked and inedible, combined with lacklustre service and a sweaty smell throughout the whole venue. You can't get much worse than that!
7. If you had to take one meal on a desert island, what would it be?
I often get asked this question and am constantly changing my answer. At this moment in time and given sustenance is required for a desert island (!), I would probably start with pan-fried foie gras on toasted brioche followed by a sirloin steak cooked rare topped with Cafe De Paris butter and sides of mustard mash potato and green beans with garlic. For dessert, Tarte Tatin served straight out of the pan with clotted cream ice cream, and most definitely a cheese platter with Stilton included! My tipple of choice is a Dom Perignon rosé. Gosh that's quite a decadent selection isn't it?!
Thank you so much for sharing your many years of expert culinary knowledge and experiences with us, we love your blog and we're sure our blog readers will do too! Head over to foodiva.net to read some of the best food related reviews and articles on the web,
Written by Sofia Kluge on Google+