How do currency brokers pay out funds to my beneficiary?
When seeking the support and advice of a currency broker, you might as yourself how they pay out funds to the beneficiary. There are a couple of things that brokers will need to consider when sending money to a beneficiary including, time and safety regulations. This episode briefly covers everything you need to know in order to gain a better understanding of how brokers pay out funds.


Good morning, and welcome to another edition of MyCurrencyTransfer TV. Today, we're going to answer a question asked by one of our customers recently:
"How do currency companies pay out funds to my beneficiary."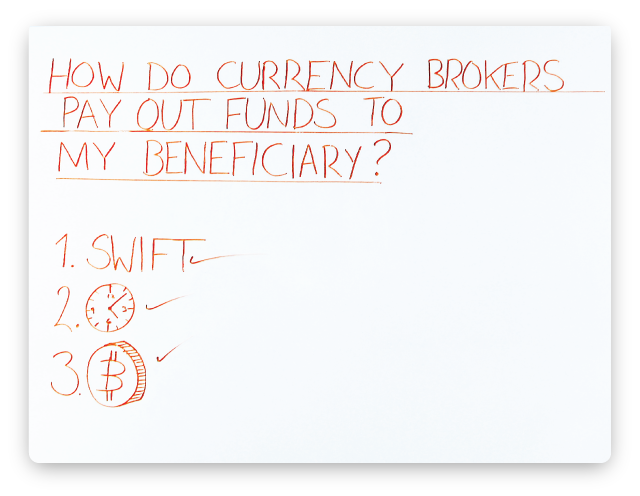 Swift Membership
Most large, reputable currency brokers are members of SWIFT – this stands for the Society for Worldwide Interbank Financial Telecommunication. It's the world's largest domestic and international payment system that's used in the financial markets to make payments between accounts fast, securely and safely. Check your currency company has swift connectivity.
Typically, you will book a rate with a currency broker and be issued with a trade notification. Most brokers accept bank transfer payment via CHAPS, BACS or Telegraphic Transfer. It's important to note that most non-bank currency companies do not accept cash or funds from third parties. Those that do accept payment from third parties will need to verify the source.This is for anti-money laundering reasons.
Same day or 24 hours later
Once your chosen provider has received clearance of the sell currency, the broker will pay the beneficiary account (or for multiple payments, the accounts) you've nominated the same day or 24 hours later.
With some non-bank foreign exchange brokers, you can track the progress of your payment OR receive an email OR PDF to confirm that the payment has gone through.
Bitcoin accepted? Nope.
Despite Bitcoins meteoric rise, inside the money transfer industry there remains zero regulatory oversight. It's very important for non-bank foreign exchange companies to protect client funds & adhere to money laundering & risk management parameters. As such, none of the currency brokers listed on MyCurrencyTransfer.com, nor any FCA regulated company we know of accept Bitcoins as a form of payment. As soon as this may change, we'll keep you abreast of updates.
Be sure to follow us on our twitter handle @currencytransfr and if you have any questions feel free to email me at [email protected]
Sofia Kluge on Google+