Expat Star Awards 2014


Top 10 Expat Food Sites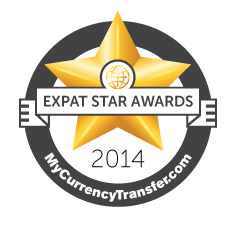 Welcome foodies to the 2014 Expat Star Awards, sponsored by MyCurrencyTransfer.com.
Our 'Top 10 Websites & Blogs For Expat Food' award, recognizes, rewards and celebrates websites and blogs that focus on food around the world. We're looking for the tastiest, but descriptive sites that bring you into the country and its flavors.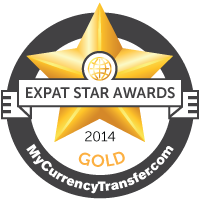 When it comes to fine French foods and mouthwatering desserts and candies, our esteemed winner and celebrated pastry chef, David Lebovitz knows a thing or two. He started his exciting culinary blog way back in 2004 and it has grown in popularity and size dramatically in the past 10 years. Packed full of fabulous recipes, excerpts from his many cookery books and well, more food, this is one website that was designed to be enjoyed whilst drinking a strong espresso whilst fervently planning your next meal. We could have stayed here for hours, and who could blame us? With recipes for delights such as 'Marshmallow Cream Fudge' and 'Pear And Almond Tart' it was only our rumbling stomachs that caused us to leave.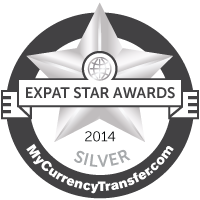 Talking to chickens, long walks with dogs in the Lithuanian countryside and wonderful bloggy stuff all about food. This really is our kind of website and a worthy second place! When June, the founder of My Food Odyssey is not eating food, she is thinking about it, talking about it and seeking it out. She also loves to cook and will source local ingredients wherever possible. June's blog began as a diary of her camper van adventures across Europe and has now turned into a cornucopia of wonderful recipes that beg to be made, adored and enjoyed by all the family. There are some real culinary gems here such as 'Lithuanian Koldunai' and a wonderful 'Tomato And Lentil Soup' just perfect for using up this year's tomato harvest.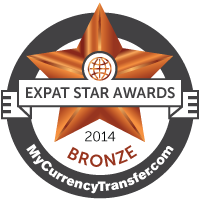 Hands up who loves Mexican food! For the record, we have both hands up. We can't get enough of tamales, nachos, burritos and all of that wonderful stuff going on south of the border. It's one of the reasons we chose La Cocina De Leslie (Mexican for Leslie's Kitchen in case you were wondering) for our 3rd place position. As the tagline on Leslie's website says this is a website that "celebrates food, family and life in Mexico." Before we visited Leslie's blog, we had no idea there were so many Mexican dishes available. You can forget the typical Tex-Mex dishes on offer in most local supermarkets or restaurants. Leslie has taken Mexican cooking to the next level with local specialties such as "Pineapple Empanadas," "Chilli Colorado" and "7-Up Pound Cake."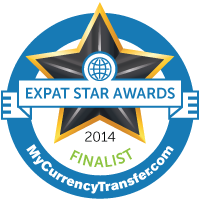 Expat Kochen
We love our first finalist, Expat Kochen, and think you will too! Featuring a wealth of information and inspiration for anybody who loves to cook, this website is a great companion to have beside you in the kitchen. This is rustic cooking and eating at its finest so if you love foraging for the best ingredients or throwing a few wonderful things together in a pan, this is the blog for you.
Expatexpress.com
If you're an expat from the US and you're missing the food from home, Expat Express will come to your rescue. We particularly love US candy here in the MyCurrencyTransfer office so we had great fun feasting our eyes on the wonderful grocery products available on this handy and well stocked website. Expat Express gives you the freedom of shopping for hundreds of US groceries and household items as if you were right there in the store.
Expat Cucina
Dani, the creator of Expat Cucina hails from Italy, but is now living in China. She loves nothing better than tracking down traditional and unusual ingredients in local stores and sharing her adventures with her lucky readers. Here you'll find an exciting mix of rustic Italian recipes, Chinese dishes and lots of handy tips on where to shop and eat.
If you are looking for a blog all about real world French cuisine, Linda's blog has a wealth of fabulous journal entries, recipes, cocktail ideas and more to tempt expats looking for new ideas or for a taste from home. From her life in Paris to her life on the beach, Linda journals everything including the great food and experiences she has along the way.
The writers at Eating Asia really know how to stir the senses and their heady mix of Turkish and Asian food is testament to this. We doubt you'll find any other blog that tells you how to eat street food safely or how much a food writers fingers are worth! A worthy position in our finalist list.
We love Greek food and so we were pleased to include My Little Expat Kitchen in our list of finalists. Magda, an expatriate from Greece, lives in the Netherlands and enjoys many types of cuisines from around the world. Packed with wonderful recipes and mouthwatering photos, this is a great blog to bookmark when you need a little inspiration in the kitchen.
Expatriate Lifestyle
Expatriate Lifestyle is so much more than just a blog. It is Malaysia's leading website and online magazine designed for residents and expats alike. Crammed with useful local information about where to eat, shop, drink or party, this is a website that will make your expat transition all the more easier. You'll even find where the best British restaurants are located if you are really missing home.

All our winners and finalists are invited to upload their badges of honour from the main
Expat Star Awards 2014
page.
Tell the world how good you really are!
Need any help to transfer money? Use our comparison tool at Mycurrencytransfer.com
So, what do you think of our top 10? All your comments, thoughts and tips are welcome!
Aviva Tabachnik