Expat Star Awards 2014


Top 10 Expat Advice & Information Sites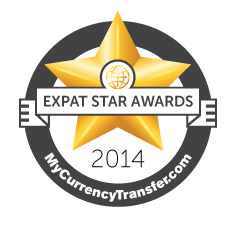 Welcome to the 2014 Expat Star Awards, sponsored by MyCurrencyTransfer.com. Do you love to be informed? Our 'Top 10 Information and Advice Websites & Blogs' award, recognizes, rewards and celebrates websites and blogs that give you everything you need in one place! These sites leave expats informed and ready for anything and for that we love them!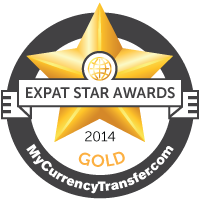 Well done to Expat Focus for topping the podium in our Expat Advice and Information category. This is one of our most prestigious awards as it recognises the websites that give expats access to the information they are most likely to need in one handy place. Expat Focus offers a wealth of information that is geared towards making expat life just that little bit easier. Whether you are looking into moving but you're not sure where to, or you have already moved and you need a hand with getting acquainted to life in a foreign land, you can be sure Expat Focus will deliver. Check out their Essential Expat Guide before you do anything else. It's a great read and will help you to focus on what you need to do next to turn your migration dreams into a reality. Well done on winning gold!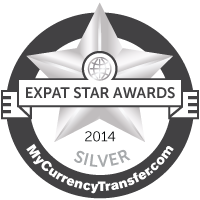 Our silver award winner is Expat Exchange and a worthy winner they are too. This is a great site to visit for the expat collecting information and advice before they make the leap to pastures new. Personally, we've never seen so many forums dedicated to individual countries before. From Algeria to Zimbabwe, you'll find a forum packed with real world experience and handy information that will ease you into expat life in no time. Joining is free and once you do you'll be rubbing virtual shoulders with seasoned expats who have been there, done that and who are now living the lives they have always dreamed of.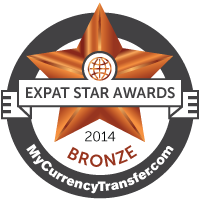 Of course, one of the most important things on an expat's to do list is finding a job. Unless you are from a wealthy family, you were lucky enough to marry into money or you are retired, being granted citizenship in most countries is almost impossible if you don't have a job. If you're going to use one site to find a job in a new country, make it expatjobs.eu. Here you'll find job listings in over 140 countries, advice from recruitment companies, a CV doctor service that ensures you make a great impression and articles covering every aspect of expat life. If we didn't love our jobs here at My Currency Transfer so much, we might be tempted to submit our CVs!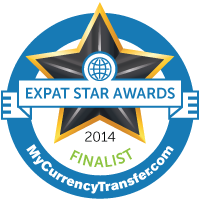 If you are in the process of making the move to another country and joining the many expats who have done the same, Expat Finder will be an invaluable tool. Here you can compare and search for the services and products that are essential for your big move overseas. It even includes a search engine that allows you to search hundreds of other expat websites for the information you seek – very generous of them, we thought!
Thousands of job listings, an independent panel of money specialists and the ultimate in expat forums and expat news. What's not to like about expatnetwork.com? Expat Network has been in operation for over 20 years so as you can imagine, they really know a thing or two about relocating overseas. From international job search through to general expat support, you'll find everything you need here.
Expat Briefing
We love the diverse nature of expatbriefing.com. From fun and revealing interviews from expat bloggers from all over the world to detailed answers to complex tax questions, this is a great website to bookmark. You'll also find some detailed country overviews and streams of the latest posts from their many forums.
Want your own private expat area where you can save bookmarks and manage your personal list of favourite articles? As its name suggests, easyexpat.com makes this easier than ever and you could have your own area set up within seconds. From here you'll be able to browse the many articles available and save them for reading later or for reference as and when you need them. Crammed full of handy expat guides, informative articles and revealing FAQs, easyexpat.com is essential reading for any expat.
If you have a dream of swimming with dolphins and living in a tropical paradise whilst living on less money than you do now, International Living will show you how. This website proves that this type of lifestyle isn't just reserved for the rich and famous and that thousands of people are now living the expat life they always dreamed of, dolphins and all. Think you can't live better for less overseas? International Living might just change your mind.
Expat Info Desk
Wouldn't it be great if you had access to your own personal concierge service whenever a question about migrating popped into your head? Well, expatinfodesk.com is an online guide specialising in international relocations all over the world. Their on-demand digital books are packed with essential information and you'll find all the expat information you could ever need here in one handy place.
Helping people all over the world to escape to new destinations and do it well, EscapeArtist is full of unique content, expat insights and expert analysis. With offices in Panama, Belize and the United States, escapeartist.com offers a wealth of information for the expat looking to make their escape in the smoothest manner possible.
All our winners and finalists are invited to upload their badges of honour from the main
Expat Star Awards 2014
page.
Tell the world how good you really are!
Need any help to transfer money? Use our comparison tool at Mycurrencytransfer.com
So, what do you think of our top 10? All your comments, thoughts and tips are welcome!
Aviva Tabachnik